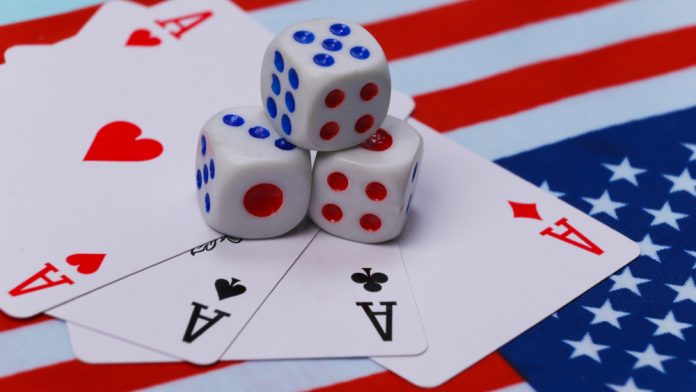 As it stands, Connecticut, Delaware, Michigan, New Jersey, Pennsylvania and West Virginia all permit online gambling in some form or another. Meanwhile the industry has experienced an influx in igaming developers and operators entering each state.
So as the market begins to open up even further, are we seeing the beginning of the future powerhouse of online gambling?
In a two-part series, CasinoBeats will look at the reasons for those who make the leap and others who have, as of yet, distanced themselves from the land of opportunity.
Part one will see Brandon Walker, business development manager at Amelco, Victor Araneda, chief business development officer at Gaming1 and Henry McLean, co-founder, commercial & marketing director at 4ThePlayer, speak on the advantages the US offers suppliers and potential of the country's online sector.
CasinoBeats: What advantage does being in the US have on suppliers compared to the alternative?
Brandon Walker, Amelco: The US is an immense market, and quite simply, there's nothing else like it. Amelco's been around since 2008, and we've serviced some of the industry's major operators and sportsbooks during this time, but nothing compares to the US.
The number of states now getting legalisation bills ready is becoming unprecedented, and hand-in-hand with that will be a far more advanced and immersive offering as sportsbook, casino and streaming companies merge into one.
Still less than half the states have legalised online and as players grow in their confidence and market knowledge, we'll see even more action. Given this year's surge, this popularity of online gaming will only grow as it becomes more widespread across the nation. Florida, New York and California will of course be the poster child for these.
However, there's one elephant in the room when it comes to a US market that still has plenty of space to grow – online casino, and in many ways, it is still underserved. Despite land-based casinos opening up this year, I predict that the online space will still have a strong part to play.
This will no doubt enable plenty of opportunity for the cross-sell to kick into action to entice players over to a virtual gaming table, or indeed – if they're not going to make it out to a land-based casino during the festive period, slots.
Victor Araneda, Gaming1: Our platform has a proven record of being highly competitive in regulated environments and, as we all know, the US is now the largest regulated sports betting market globally.
As chief business development officer, it was an obvious choice for us to bring our experience, capabilities and partnership philosophy to the US. This is especially the case for us, given our history as a partner that is proven to take land-based operations online. I see this as a key factor in the US right now, with such a strong bricks-and-mortar legacy. Our job here, and indeed specialisation, is to help our land-based partners create and scale operations for the digital world. This will no doubt be a key demand across every state that comes online in the coming years, given the millions of players who will want to get in on the action.
Henry McLean, 4ThePlayer: The exciting thing about the US is its untapped online potential: it is a newly regulated market and the biggest new market we will see for many years. The advantage to being in this market early is that we won't be up against as many other content suppliers as in other markets – you have to go through the process of obtaining a licence, so the barrier to entry is high. At 4ThePlayer.com, we made the decision to apply for licenses in all the appropriate states simultaneously to maximise the opportunity and hopefully get into multiple states much faster.
An advantage we have is that our founding team has a lot of experience in gaming and we know what players want online. The online space is very different to retail/offline, which I think the US market knows and has driven the digital M&A drive. We appreciate the American market is different to the markets we have been in, but we can bring a lot of our learnings and decades of online/digital experience into the market.
CB: What is the potential for the US online sector?
BW: We're seeing growth across the board as multi-state rollouts continue, and for the majority, only a number of states are only just becoming familiar with live dealer and casino. From this point, the only way is up. After all, live dealer – especially from the likes of Evolution and Playgon – presents the first opportunity for US players to experience the most authentically 'Vegas' digital experience.
Paramount to fostering that growth is having the foundations in place to support scaling up, rapidly when necessary. This means a robust platform that can offer live dealer (or indeed any other vertical) as one – a 360-degree offering that can deliver the full customer journey. If that is available, and indeed it is, the ability to deliver the same casino experience stateside that we already see in Europe will become commonplace – and online gaming will continue to see exponential growth.
While online gaming has been legal in a handful of states since as far back as 2013, the main issue has always been traffic. The US has a rich gaming heritage, but it has traditionally always been a brick-and-mortar casino-based activity.
It's only the emergence of sports betting as central to America's online revolution that has really opened the market to other verticals, such as iGaming – and players are willing to give it a try.
As more states come online, as they soon will, gaming will form a central part of the online entertainment mix. The opportunity to bet on sports as well as getting into the live casino experience online, presents Americans with a wealth of exciting possibilities for their evening's entertainment – looking at Fox Bet and FuboTV – we can already see adoption fast-underway.
To succeed on the supply-side online, it's all about having the best Player Account Management system. This means a full-service ecosystem that brings together all parts of the betting experience, across sportsbook, igaming and more.
Most of the major US suppliers are simply not able to instantly deliver a comprehensive, 360-degree offering that can accompany the player on the full customer journey – yet those that do can really make a difference for operators.
VA: There's plenty being said about the revenue projections for sports betting, which are indeed breaking records, but as more states approve enabling legislation for online casino, I believe we're going to see a real surge in popularity, just like we've seen recently with Michigan's excellent start.
States with regulatory frameworks that fully embrace the strength of the casino vertical will offer the highest potential upside in terms of shareholder value, as well as customer experience. After all, the US legacy for casino on the land-based side is legendary, and I believe as players discover the excellent entertainment that online casino has to offer, we'll see a new dawn for digital gaming stateside.
HM: The potential is huge: as each state regulates, further opportunities present themselves. Historically, American people have a great appetite for gaming and recent results show this appetite extends online.
Our first game, 9k Yeti, one of our most successful slots, will be live in the US very soon via our recently announced platform deal with Gaming Realms. The reception to this so far from US casinos has been brilliant.
Then we have a roadmap of cherry-picked titles to roll out, including our recently released and super successful 3 Secret Cities – we can't wait for US players to try them.
Our games are all about player-centric innovation and – more importantly – fun, something we think will really resonate with American players. This makes the potential for our content in the US even greater.