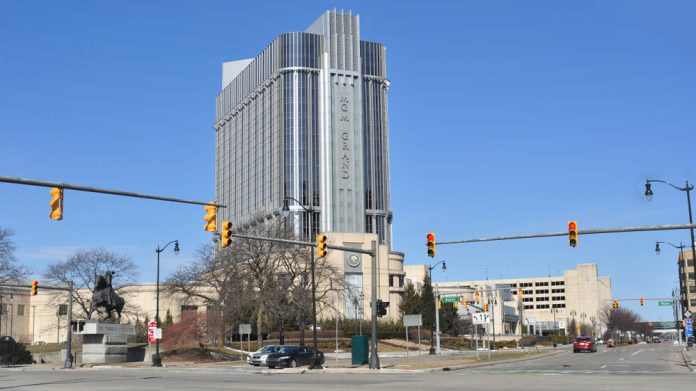 Michigan's three casinos, all situated within Detroit, reported revenue of $1.29bn through 2021, with slots bringing 77 per cent of that with $998.8m, table games providing 21 per cent of revenue at $268m and retail sports betting adding two per cent at $26.95m.
In comparison, the trio of gaming establishments produced almost $639m in aggregate revenue in 2020, however, 2021 fell short of the record $1.454bn in 2019.
The past year saw MGM Grand Detroit come out on top with a 43 per cent market share, ahead of MotorCity Casino's 35 per cent and Greektown's 22 per cent.
Year-over-year gaming revenue for slots and table games rose 104.2 per cent to $1.27bn, with MGM Grand Detroit up 115.5 per cent to $554, MotorCity Casino's increasing 96.8 per cent to $438.3m, and Greektown Casino rising 95.2 per cent to $274.5m.
Through the year, the three Detroit casinos paid $102.6m in wagering taxes to the state of Michigan, compared with $50.3m in 2020 on slots and table games revenue.
Furthermore, the trifecta reported making $160.8m in wagering taxes and development agreement payments on slots and table games revenue to the city of Detroit during the year.
In addition, the three casinos also reported aggregate retail sports betting qualified adjusted gross receipts of $26.95m., with MGM leading the way with $8.79m, ahead of MotorCity's $8.69m and Greektown's $9.47m.
Moreover, the venues also paid $1m in taxes for retail sports betting to Michigan compared with $690,865 in 2020, as well as submitting $1.26m in retail sports betting taxes to Detroit.
Through December Detroit's casino reported $112.5m in monthly aggregate revenue, with table games and slots generating $111.4m and retail sports betting contributing $1.1m in revenue.
Table games and slots revenue during the month was 405 per cent up year-on-year, with the facilities shuttered from December 1-23 2020 due to the ongoing COVID pandemic. Revenue for table games and slots also was up 7.2 per cent compared with November numbers.
December revenue rose 576.5 per cent per cent to $51.4m for MGM compared with December 2020 results. MotorCity was up 284.9 per cent to $35m, and Greektown secured an uptick of 365.9 per cent to $25m, compared with December 2020.
During December, the three Detroit casinos paid $9m in wagering taxes to Michigan, compared with $1.8m during the same month one year earlier. The establishments also reported making $18.1m in wagering taxes and development agreement payments to Detroit.