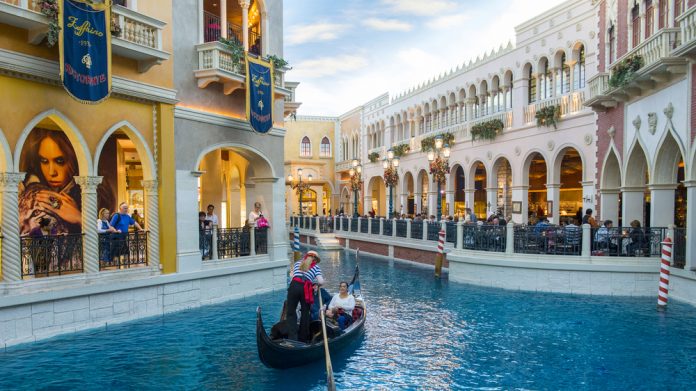 Vici Properties has updated its full-year revenue guidance amid a vow to continue pursuing gaming growth opportunities after a number of key transactions were detailed by the real estate investment trust.
Firstly, alongside affiliates of Apollo Global Management, the group finalised the $6.25bn purchase of The Venetian Resort Las Vegas and the Sands Expo and Convention Center from Las Vegas Sands.
The transaction, initially detailed in March 2021, saw Apollo acquire the operations of venues for $2.25bn, with Vici gaining all land and real estate assets for $4bn.
Furthermore, subsequent to quarter end, the company closed a previously announced acquisition of MGM Growth Properties for total consideration of approximately $17.2bn, inclusive of the assumption of approximately $5.7bn of net debt.
"In February, we closed on our $4bn / 6.25 per cent cap rate acquisition of The Venetian Las Vegas, one of the largest and most dynamic real estate assets in the world," commented Edward Pitoniak, Chief Executive Officer of Vici Properties.
"Last week, we announced the closing of our $17.2bn strategic acquisition of MGM Growth Properties, through which we added 15 class-A real estate assets to our portfolio and created a new partnership with MGM Resorts, one of the world's foremost leisure and entertainment companies. 
"Additionally, with the ongoing support of our equity and credit investors, we have been able to transform our balance sheet and recently received investment grade ratings from S&P and Fitch, enhancing our overall access to debt, as evidenced by our inaugural investment grade notes offering of $5bn to fund a portion of the MGP acquisition."
This comes as the REIT disclosed that revenue through the first quarter of the year increased 11.3 per cent to $416.6m from the $374.3m produced one year earlier.
Net income attributable to common stockholders dropped to $240.4m (2020: $269.8m), with adjusted funds from operations reported as $305.5m, an uptick of 19.8 per cent year-on-year compared to $255m.
"At Vici, we made 2021 a year of initiating transformation through $21bn of transaction announcements and $5.4bn of related equity raising," Pitoniak noted.
"We have made the beginning of 2022 a period in which we've completed this transformation through the final financing and closing of these transactions."
Furthermore, the company has also updated AFFO guidance for the year, which it expects to be between $1.66bn and $1.69bn.
Pitoniak added: "Today, Vici owns 43 of the highest-quality Las Vegas and regional gaming assets, has grown to an estimated enterprise value of $43bn and has over $2.6bn of annualised contractual rent and income from loans. 
"We look forward to continuing to pursue accretive growth opportunities within the gaming space and non-gaming experiential space."