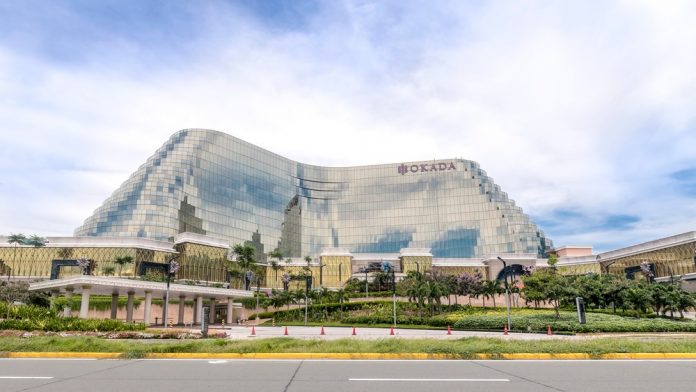 Okada Manilla has emerged from a strong third quarter, financial results from parent company Universal Entertainment show, following the group recently winning a legal battle concerning a potential merger with SPAC 26 Capital.
Tiger Resort, Leisure and Entertainment, a Universal Entertainment subsidiary, revealed that gross gaming revenue through the three months ending September 30, 2023, came in at PHP 12.35bn ($217.83m), up 29 per cent from PHP 9.51bn ($167.59m).
On a segment by segment basis, mass table games demonstrated the largest increase when contrasted to the same period through 2022, however, each core division secured an increase year-on-year.
This aforementioned reporting segment grew 64.63 per cent YoY to PHP 4.1bn (2022: PHP 2.49bn), with VIP table games up 11.71 per cent to PHP 4.42bn (2022: PHP 3.96bn) and gaming machines closing at PHP 3.82bn ($67.32m), an improvement of 25.63 per cent from PHP 3.06bn ($53.93).
Adjusted property EBITDA came in at PHP 3.55bn ($62.56m), which represents an increase of 45.6 per cent from the PHP 2.44bn reported one year earlier.
For the year-to-date, GGR is up 47.69 per cent to PHP 35.21bn (2022: PHP 23.84bn), with each segment securing increases once again. AEBITDA increased 71.99 per cent to PHP 9.94bn (2022: PHP 5.78bn).
This comes after a long protracted legal battle concerning a merger agreement between TRLEI, operating as Okada Manila, and Miami-based publicly traded special purpose acquisition company 26 Capital Acquisition that was agreed in October 2021. This would've seen the resort become a publicly traded company on the NASDAQ.
In July, 26 Capital Acquisition hit back at attempts by UE and various subsidiaries connected with Okada Manila, to scrap a long mooted merger, by committing to a lawsuit.
However, the Delaware Court of Chancery ruled that those connected with Okada Manilla do not have to complete the planned combination, with 26 Capital vowing that it was "committed to vigorously pursuing" all available remedies against all parties, including damages. Earlier in the month, the group announced a hold to liquidation of a trust account.