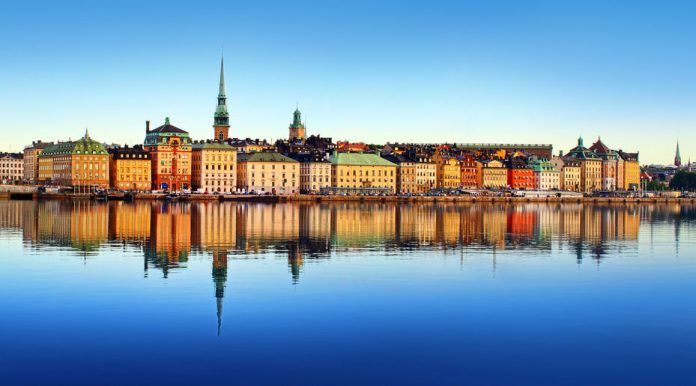 THERE'S inherent comfort in being a regular international traveller. The frequent flyer tends to travel lighter, pack more efficiently and become adept at smoothly managing changes in currency and payment methods.
The relative lack of stress this familiarity breeds can also bring an almost laissez-faire attitude. Not so much complacency than an occasional lack of diligence – a mental checklist rather than an actual written one, for instance.
It's the kind of sloppiness that could lead to an electric beard trimmer running out of power mid clip and, thanks to not having brought a charger, having to finish the job using nail clippers. Not that this has ever happened to CasinoBeats.
This lack of ceremony, this shorter run-up, often means suddenly finding oneself somewhere new, in this case the Swedish capital, Stockholm. Home to a number of high-profile gaming companies, Stockholm has drawn a crowd to the official opening of Yggdrasil Gaming's latest base, adding to the company's presence in Malta, Poland and Gibraltar.
But before contemplating Yggdrasil's new workplace, CB finds itself on the Arlanda Express – the lightning-quick rail shuttle from Stockholm's international airport to downtown. With a return ticket costing SEK540 (around €50), like a lot of things in Sweden, it is not cheap, but it does deliver. It is also bang on time and tops out at nearly 190kph, a case study in sleek Swedish efficiency.
Stockholm itself is spread out over 14 islands, connected by 57 bridges. CB is staying on the largest of these, Södermalm, to the south and a short walk from Yggdrasil's new hub.
Trying desperately to not become excited about frequenting the places name-checked in numerous Scandinavian crime series and Stieg Larsson's Millennium books, CB takes the tunnelbana (!) to Skanstull station, just off Götgatan (!!) before checking into the Clarion Hotel and walking back down Götgatan to Gamla Stan (*faints*).
Even for those unfamiliar with Salander, Blomqvist et al, Stockholm is a feast for the senses. There are fewer waterways than Amsterdam but they are much broader and arguably even more influential here, shaping the city and delineating its boundaries. In contrast to Berlin, the efficiency on show in Stockholm is quiet and understated rather than worn loud and proud.
Unlike Barcelona, there are hardly any national or regional flags on show. In nearly two days in the Swedish capital it is hard to recall more than a handful of sightings of the famous blue-and-yellow standard. And that's not the only thing missing from a mental checklist of the obvious. There are no more Volvos than one might see in Manchester or Milan, no Ikea on every corner, not one airing of ABBA and – are you sitting down? – not everyone is blonde.
These motifs might be conspicuous by their absence but in their place are the real flavours of Sweden, or at least this part of it.
People are generally quiet and polite. They take care of themselves, evidently electing to walk or cycle whenever possible. They eat fish. They drink lots of strong coffee and like to socialise. This isn't code for going to the pub (although they do that too), it is borne of an innately outward view of the world and a desire to interact. When CB visits, it is on the first day of warm spring weather the city has experienced this year. And it shows.
People are happy to be outside. The winters here are long and dark and there's a palpable sense of relief and excitement as the Swedes emerge from their hibernation ready for summer. On the streets, fewer people seem fixated on their phones, opting instead to face the bright blue sky with renewed optimism. And it is a hopeful place, Stockholm. It feels forward-looking and much of the population carries the demeanour of a people brightly expecting the best.
Those expectations are perhaps reflected in the famously high standard of living in cosmopolitan Sweden and it is not a cheap place to visit, but that's not to suggest everything is expensive. A beer might easily liberate the customer of €8 or even €10 but the most famous national dish, meatballs, is widely and cheaply available. Prior to any official engagements with Yggdrasil, CB opts for the traditional dish at Meatballs for the People, an acclaimed eatery on Nytorgsgatan in Södermalm. The classic meatballs option, complete with heavenly gravy and obligatory lingonberries, tastes amazing and, with a Coke, comes in at under €20. The dish is largely unrecognisable from the flatpack version ladled out in the Ikea canteen and well worth the extra kronor.
On day two, and guided by an excellent host in Yggdrasil, another Swedish delicacy – wallenbergare – is sampled at lunch at the rooftop restaurant Himlen, off Götgatan.
The dish is a sort of pan-fried veal sausage-meat burger. It comes with mash, more lingonberries and a stunning view of the city.  Once up high, the geography of Stockholm begins to make sense. Vast churches etch peaks into a skyline largely free from high-rise buildings although there are legions of five- or six-storey apartment blocks, painted in autumnal hues and capped with dark, steep, sturdy roofs.
Another rooftop beckons for the evening meal, this time at the achingly trendy Tak, which translates as 'roof' and is not to be confused with the Swedish for 'thank you', which is "tack, with a 'c'". Tak has glass elevators taking hip, eager Swedes to one of the city's most talked-about bars and a Japanese fusion restaurant with a famous chef.
To start there is miso soup, char (a ubiquitous pink-fleshed fish not unlike salmon) and flatbread with miso butter. The main course is donburi, a slightly sweet and sticky chicken-and-rice dish adeptly consumed with chop sticks.
These meals were part of a full day with Yggdrasil that began at the new office in Hammarby, just across the bridge to the south of Södermalm.
The fourth-floor space is split into two halves, to the right are the workstations of the studio and executive hot desks while to the left of the elevators is an open area much like the reception of a boutique five-star hotel. It is home to around 20 Yggdrasilians.
There are full-height windows flooding the whole space with light, a kitchen and breakout areas, all lined in bronze/brown, gun-metal grey and dark green, and discreetly branded. It is not shouty or showy – there are no affirmations or inspiring aphorisms daubed on the walls – but like much of this city, it speaks of business being done. Of just getting on with it. Yggdrasil employees are a happy bunch. Jeans and trainers prevail and the atmosphere is relaxed. But Yggdrasil recruits ever so carefully and these professionals are happiest when working. And that is the key – their work is fun. Their workplace is fun. They want to be here, to succeed and to do their best.
This perhaps is the greatest success of CEO Fredrik Elmqvist and his growing team. A vision has been developed, certainly, and continues to be delivered.
There is short and long-term strategy, and there is innovation, but moreover there are the resources to meet those lofty aims. At the event to mark the inauguration of the new offices, Elmqvist speaks to the assembled employees, operators, partners and media with typical bonhomie, yes, but with an undeniable laser focus. Yggdrasil's goals are clear, its story compelling, its future assured.
En route from the Hammarby office to Tak, there's another short walk (short by Swedish standards but actually about 20 minutes) for a quick beer at a local brewery and then an hour-long guided boat trip. The small boat takes CB and co from the waterway to the south of Södermalm, round the western shores and to the north of the island, dropping off at the city hall, home every December 10 to the Nobel prize-giving ceremony. Another short walk takes the group through the city to Tak and Stockholm's rooftop hipsters.
Parachuting into a new city can be disorienting and tiring but these 41 hours are by contrast a bewitching experience. A scratch beneath the surface of an historic capital that one could easily grow to love. Tack, indeed.