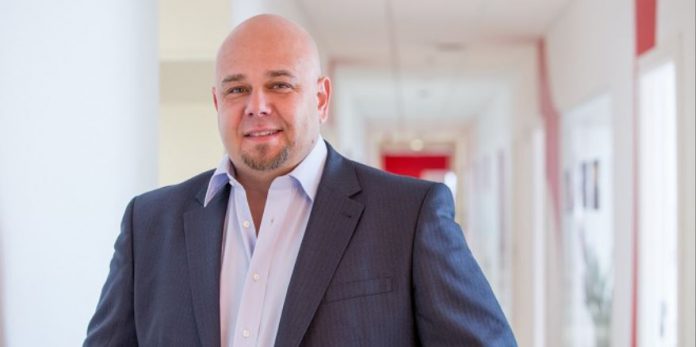 Fredrik Elmqvist, CEO of Yggdrasil Gaming, talks to CasinoBeats about the challenges faced by maturing gaming businesses and on taking that next step
YGGDRASIL Gaming would appear to have come a long way in a relatively short space of time. It was February, 2013, when chief executive Fredrik Elmqvist arrived at ICE, in the event's first year at ExCeL, armed with an iPad of game demos and a head full of ideas.
The reality is that the five or so years that have passed since then have seen monumental change in the online gaming sector, a transformation mirrored in an Yggdrasil business that now employs more than 200 across offices in Gibraltar, Malta, Poland and Sweden.
It is in one of these bases in the Swedish capital of Stockholm, that CasinoBeats sat down with Elmqvist to take stock, consider the company's recipe for success and the road ahead.
"We want to understand what people think of our games."
"You're usually only as good as your past three games," says Elmqvist, with characteristic good humour. "This market it is scrutinising every move. We monitor what the Twitchers, what the streamers say. We see that high-value productions get a lot of money behind them but sometimes clever mechanics with not-so-heavy animations can still perform."
Elmqvist is responding to a question about maintaining quality across an extensive and ambitious roll-out programme for new products. When the company makes two or three games a year, sure, it can showcase all of its considerable talents at every opportunity, keeping standards highs. But now Yggdrasil is committed to release around 12 games a year it's a different challenge.
"Starburst [the hit NetEnt slot], when that was created back in the day, was not an expensive game. Yet it is a massive hit.
"And of course there are plenty of demographics that are suited to different games. You have low-variance games with simple graphics, you have simple graphics with high variance and so on – many permutations." Being aware of that fact is one thing but how does Yggdrasil put it into practice?
"Our studio director sits right under the CEO, at 'C' level. Our studio people are rockstars internally – the animators, concept artists, the developers – but we need to elevate them to the right levels."
Elmqvist is not one for platitudes or empty statements. An example soon follows. "So we have a new game in the not-too-distant future called Penguin City. It is set in an ancient Chinese restaurant where there are penguins enslaved in the basement and they are trying to escape – the players job is to help them escape. It's a comic book theme, really.
"We had a concept artist who owns his own comic strip and I started to recognise the characters in the game as resembling those in the comic book. So we acknowledged that this comic strip – which is called Pigeon City – is the inspiration for this new slot, Penguin City. So now we are doing it as an homage. We elevate this designer in the press to show everyone that Yggdrasil cares about its rockstars. We enable them and this helps us keep deliver and maintain quality."
But the CEO cannot continue to interact daily with every part of a growing business? "Correct," agrees Elmqvist, "so it's about organisation too, in part. We have been ramping up our product facilities in Poland and Malta and now here in Stockholm. More concept artists, more animators, more developers… They can start work on a project earlier and ready the game sooner so that we can certify it and release it across markets at the same time. We have a much more streamlined production process now.
"Getting senior people in and getting their hands dirty … makes for a very efficient game development process."
"Getting senior people in and getting their hands dirty in terms of the game projects means we can make decisions early and makes for a very efficient game development process. Even if we are 210 people, or however many, and even if we have 'x' amount of projects, you cannot hide in this organisation." And there it is, that little flash of steel that is an essential part of the leader's armoury.
"If it stops, somewhere someone is not doing their job or is avoiding making decisions or giving directions. If this happens, it becomes visible so quickly and we can address it early and make whatever changes are required. This makes us very efficient."
With growth comes both threat and opportunity. One of the latter is the possibility of powerful cross-selling between company departments or product verticals. "We are looking for synergies, of course, and one of these is cross-selling," says Elmqvist. "The game-client framework is built to enable the cross-sell." Might these synergies result in translating, say, a slots brand into Yggdrasil's recently launched table games portfolio?
"We like to invest more in our own IP, like our Vikings brand," he continues, adding that the third Vikings slot, Vikings Go To Hell, is coming up in May.
"But when it comes to cross-selling Vikings through our table games, for example, we can use motion capture and dress our dealers up like vikings, sure, but dressing the dealer in a different costume does not automatically make a new game. In that way, it's just like skinning the same game mechanics.
"So if we were to make a blackjack Vikings game, it would not simply be a blackjack dealer with a viking outfit. We would add some mechanics to make this game unique, which makes it a bigger project but also a genuine brand extension. The slots development strategy is to come up with new, innovative game ideas based on the mechanics – that's the way we do it."
"Cross-selling our slot brands into our table games? the possibility is quite high."
Elmqvist is clearly in his element, here, tapping into that pool of drive and balanced lateral thinking that has driven his company to grow so quickly and so sustainably.
"We always do interesting mechanics and we want to apply that thinking to table games, whether it is blackjack or roulette," he continues. "So we want to 'slotify' the table games vertical and do so using an in-house developed 3D engine that gives us creative freedom.
"Nobody is doing this. Someone who needs to catch us up needs to build a 3D engine to compete – that is going to take some time.
"So cross-selling our slot brands into our table games? It's not a definite future but the possibility is quite high," says Elmqvist with the hint of a grin that suggests the possibility is really quite high indeed.
The sector will be interested to hear that. Even more so since Yggdrasil continues its journey from curious little project to a major-league content developer. "We don't want to be the biggest, just the best," goes the Yggdrasil mantra.
Once a company climbs the ranks, the market wants to know how it got there. What is its secret formula? Imitators seek to emulate the success, continually chasing down the new leaders. That's just part of business and one Elmqvist accepts and acts upon.
"When it comes to 'imitators', if its 'out', its out," he says. "We're transparent but we are moving on, innovating, finding new synergies. When we launched the Boost and Brag tools, we knew [the market] was going to try to catch up and they will. Many of the suppliers are trying to find versions and permutations. We accept it.
"If by being a dynamic business you get to pole position in terms of these innovations, then you need to keep on innovating. That needs to come into the culture, to form part of the persona of the company," again, Elmqvist is in game mode.
"From the outside it looks like we're rock-and-rolling, like we don't have a plan – That's not true."
"At Yggdrasil, we are super structured, we have business planning that is structured but as soon as its nailed we start over. We don't wait. We amend the business plan, update the business cases and we move forward.
"From the outside it looks like we are rock-and-rolling, like we don't have any plan. That is not true.
"We have a base plan to expand upon with great ideas and good opportunities but we're not going to let a one-year cycle ruin a good idea. Business planning for us is an eighteen-month rolling project. That also nurtures a mentality, a way of thinking. 'This is the new plan, this is the new path' – that is the only way to succeed, the only way to be agile enough," says Elmqvist, who is seemingly always on the move.
"You gotta be like sharks," he quips. "Sharks stop swimming, they die."
Fredrik Elmqvist was talking to Stewart Darkin