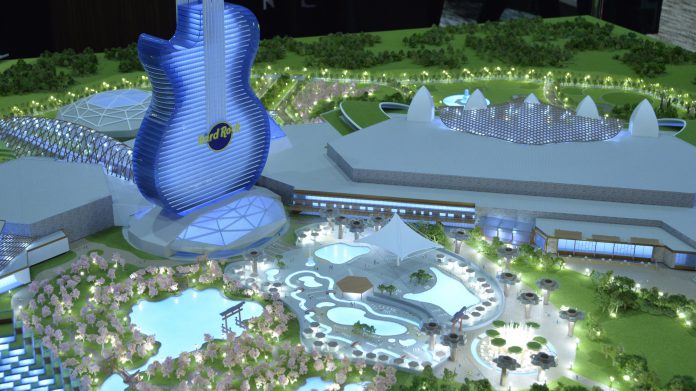 Hard Rock International has released a series of finer details regarding its proposed integrated resort on Hokkaido, Japan's northernmost island.
Unveiling a full scale model at a recent Integrated Resort Showcase, plans include monorail access from Chitose International Airport and an authentic Ainu village experience, designed to help raise awareness for the local indigenous Ainu people, as well as educating those who visit the proposed Japan Hard Rock Resort destination in the city of Tomakomai.
A partnership with Nederlander Worldwide Entertainment would see premier Broadway experiences brought to the Japanese public, including exclusive Japan distribution rights to its latest debut, King Kong.
An expansion of a 12-year relationship with the New York Yankees could have its NYY Steak concept and New York Yankee experience featured, whilst a further deal sees work undertaken alongside HPL Hotel and Resorts to bring the Four Seasons Hotels and Resorts experience to the IR.
A music Rock-n-Roll Hall of Fame is designed to heap praise and awareness on Japanese, Asian and global artists, with the latest facial recognition and security service also to be encapsulated.
"Nederlander Worldwide Entertainment has a long history of working in Asia, and we are extremely excited about partnering with Hard Rock International,"explained Robert Nederlander Jr, chairman and CEO of Nederlander Worldwide Entertainment.
"With Hard Rock's 35 years of business experience in the Japan market, we look forward to developing a premiere world-class Broadway theater in Hokkaido, so both Japanese and international visitors can enjoy a variety of popular theatrical shows throughout the year."
Further details would see Hard Rock bring a signature guitar shaped hotel to the project, a state-of-the-art wellness centre and in excess of 215,000 square feet of retail and dining space.
Jim Allen, chairman and CEO or Hard Rock, also presented a cheque of $100,000 to the Hokkaido Earthquake Charitable Relief Fund, which provides direct aid to residents who suffered losses in September's earthquake.
Allen said of the proposals: "For more than 45 years, our motto 'Love All – Serve All' has been a focal point of our company — making Hard Rock one of the most recognised and respected entertainment brands around the world.
"We are extremely excited about the prospect of introducing our Hard Rock family to the people of Hokkaido, Japan with this world-class entertainment resort.
"It will not only bring economic benefits to the local community, but also act as a gateway to learn more about the wonderful heritage of Japan and all that it has to offer."