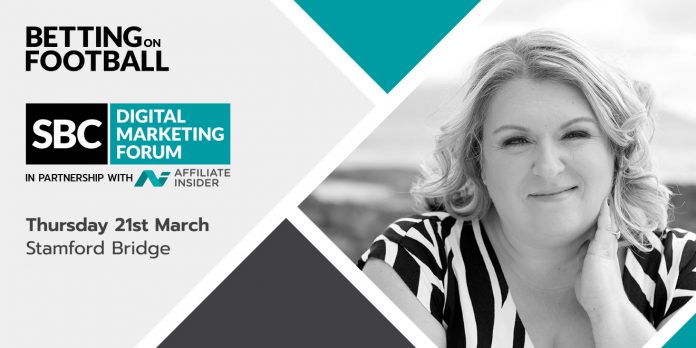 SBC Events is ready to launch the Digital Marketing Forum, a new gathering for online marketing professionals to discuss disruption, new disciplines and best practice.
Produced in partnership with AffiliateINSIDER, the inaugural Digital Marketing Forum will take place on Thursday, March 21, as part of the second full day of the Betting on Football conference, which runs from March 19-22 at Chelsea FC's Stamford Bridge.
Just two weeks before the event, we caught up with Lee-Ann Johnstone, founder and CEO at AffiliateINSIDER, to find out more about the one-day digital training workshop, including some of the key topics, sessions and speakers to look out for.
Why is the Digital Marketing Forum an important event for igaming marketers?
LAJ: "The Digital Marketing forum is for any online marketer who is interested in accelerating their customer acquisition and disrupting their digital strategy to engage a wider audience.
"Whether you are an affiliate entrepreneur, an online marketing manager at an operator brand or simply a general marketing executive looking for new ways to run online strategies – the content we've created for this year's Digital Marketing Forum is going to be useful and relevant to you.
"Digital is constantly disrupting and keeping ahead is key for any business to survive and grow"
"Digital is constantly disrupting and keeping ahead of new tactics to engage wider audiences is key for any business to survive and grow. It's why we've brought together a broad spectrum of topics to help meet these objectives and secured some of the industries brightest digital minds to present and teach."
Can you explain why are you encouraging those attending to look upon the event as a training day, rather than a traditional conference?
"Our digital presenters are experts in their field. They are also generously contributing their time to teach practical implementation of digital trends. From SEO to linkbuilding, content marketing and AI in the digital age, you'll be getting access to content that isn't shared openly anywhere else. You'll have the opportunity to ask questions and learn new tricks that can growth hack your marketing efforts, as well as help you to think differently about digital and its disruption.
"While conferences offer networking and exhibition opportunities, few offer the depth of content that we've packed into our one-day agenda. It's for this reason I like to think of it as more of a digital training workshop than a traditional high-level conference. I know that delegates will leave the event with a number of new ideas and key tactics to implement that will help their online businesses to grow."
How can operators and affiliates work better together to meet the challenge of acquiring new players?
"Data is driving the collaboration between affiliates and operators forward. The key emphasis is still on collaboration and this starts with relationships. Understanding both sides of a partnership is key to starting a great relationship.
"Too often, I hear affiliates tell me that they've tried to reach out to affiliate managers only to be dismissed as not being important enough to get a deal in place. This is a fundamental error in affiliate management that I see all too often in inexperienced affiliate teams. We forget to be human in the negotiation sales process. It's hard starting a business, and affiliates have to work really hard to make their commission.
"We forget to take time to listen rather than speak. It's key to understand that value is not derived only in volume of numbers. It is also borne out of niche relationships that can provide quality customers. Smaller affiliates can do this, and therefore should not be dismissed. Taking the time to understand where and how value can be derived in each contact is a key attribute to building a successful program."
"The day offers an insight with the aim of supporting business growth and brand building"
What key topics will be discussed as part of the seven-session agenda?
"The focus is on digital marketing for customer acquisition, so we cover all digital marketing techniques that support this. From SEO and linkbuilding on a budget to complex content marketing strategies that support brand exposure in omni-channel environments.
"We also look at the convergence of UX and emotive design to engage audiences and what's developing in social media and influencer marketing, as well as digital automation. The day offers an insight into all of these areas with the aim of supporting business growth and brand building in our digital era."
Finally, James Sandberg is one of the latest additions to the speaker set; why should every igaming business be interested in what he has to say?
"James has a wealth of digital marketing expertise and sees the industry from a very different perspective. He has implemented loads of global digital strategies and has a great understanding of audience engagement.
"He's going to share some really unique insight on how sales funnels and customer lead generation can be automated using some simple digital marketing artificial intelligence to speed up online sales and customer conversion. If you want to grow your business, this shouldn't be missed. You can watch a bit about his session ahead of the event here."
Want to attend Digital Marketing Forum? Book your tickets here: https://sbcevents.com/sbc-digital-marketing-forum/#register