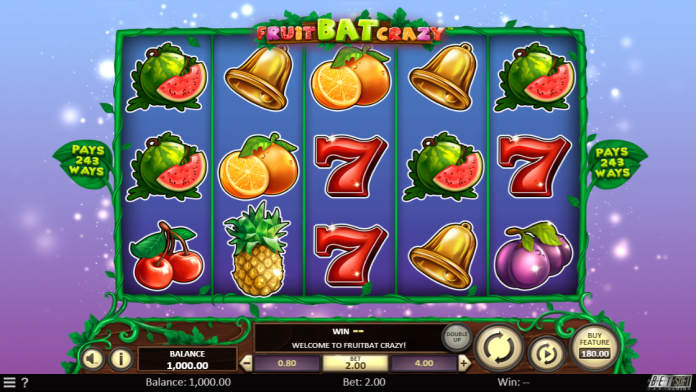 Fruit Bat Crazy is the latest online slot release from Malta-based casino content developer Betsoft Gaming.
RELEASE DATE
"Coming soon."
THE PITCH
"Starring a hungry bat on the prowl for food, Fruit Bat Crazy takes traditional slot symbols and brings them bursting to life."
GAME DETAIL
Melons, berries, citruses, and cherries; this cheeky flying creature is always ready to sink his fangs into clusters of fresh fruit, sending pulp flying and unpeeling the potential for big payouts!
A new slant on cascading slots, Fruit Bat Crazy lets delicious combinations build before splattering them in one seriously succulent explosion.
Clusters of low-paying symbols will always pop first, and Fruit Bat Crazy's roster of taste symbols collapse, combo by combo.
This means the smallest wins resolve and trigger their own cascades before big wins are calculated, increasing the chances of a deluge of delicious fruit.
BONUS STUFF
Fruit Bat Crazy really earns its name in the free-falls feature: find three or more bat symbols at once, and a whole flock will descend from the trees sky and gorge themselves over the course of 10 or more free falls.
To make sure this fruit frenzy is accessible to anyone, Fruit Bat Crazy contains a feature-buy-in mechanic with a special symbol that tracks over multiple play sessions, and can cut the cost of buying into free falls to zero.
ANYTHING ELSE?
"Beyond its loveable character, exaggerated artwork, and exciting gameplay, Fruit Bat Crazy is also packed with new innovations.
"As one of the first games built on Betsoft's second-generation development framework – Shift 2.0, Fruit Bat Crazy will use new smart streaming to swoop from the sky with no compromises on almost any device."
DEMO
Try the game out on the Betsoft site here.