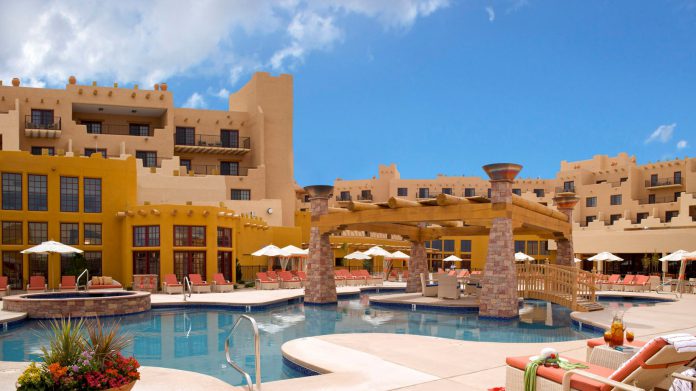 New Mexico has doubled its total of operational sportsbooks within the state, after the Pueblo of Pojoaque owned Buffalo Thunder Resort and Casino debuted its offering this week.
Coming less than six months after the Tamaya Nation welcomed the activity to its Santa Ana Star Casino and Hotel in Santa Ana Pueblo, New Mexico, Buffalo Thunder debuts to become the first real competition in the Land of Enchantment.
Reported by various US-based media outlets, further details of the sportsbook operation has been reported as a joint venture that is to be run between the owners of National Sports Book Management, John Gaughan and Jay Vaccaro, and the South Point Hotel and Casino.
Under the terms of deal, Gaughan's Las Vegas Dissemination Company will provide a full suite of sportsbook and pari-mutuel race solutions, including kiosks, hardware and software support, with the Stadium Technology Group chosen to provide the relevant sports betting technology.
This new opening comes in time to capitalise on March Madness, a 68-team single-elimination college basketball tournament which hosts 67 games over a period of 19 days, getting underway with 'Selection Sunday' this weekend.
Buffalo Thunder Resort and Casino is located in Santa Fe, Northern New Mexico, and features almost 70,000 square feet of gaming, encompassing 1,200 slot machines, a dedicated poker room, race book, high limit slot area and "the largest table games pit" in the region.
The property debuts its sportsbook despite the activity having not yet formally been legalised within the state, but it is said that state officials have interpreted existing tribal-state compacts to effectively include sports wagering as permissible class III gaming.  
Upon opening its own sportsbook in October, Santa Ana Star Casino and Hotel CEO John Cirrincione, explained why such a step had taken place despite legislature not expressively legalising sports wagering: "The tribal-state compact allows tribal casinos in New Mexico to operate all forms of class III gaming. Sports betting is class III gaming. The Pueblo of Santa Ana is a sovereign nation, with its own laws allowing all forms of class III gaming in its casino."