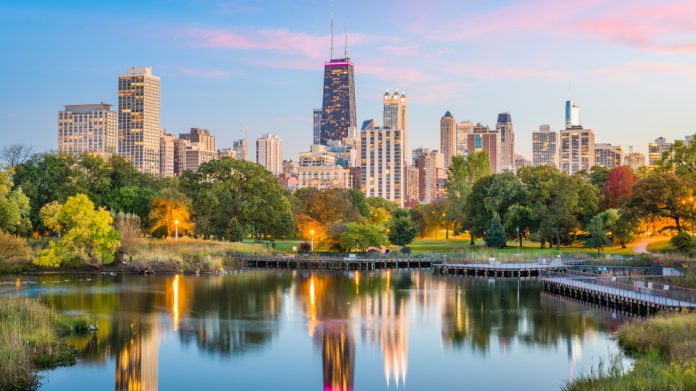 Illinois is to become the latest US state to throw its hat into the sports wagering ring, thanks to a vote in favour of such a move taking place over the weekend.
Casinos, racetracks and sports venues with a capacity in excess of 17,000, such as Wrigley Field and Soldier Field, will now be able to offer legal land based and mobile sports betting, with such operators getting an 18 month head start on mobile only counterparts.
Furthermore, bill SB 690, passing 46-10 and concurring with house approval, is to also see the construction of six new casinos to add to its existing 10, one of which will be located in Chicago which currently has no such facility.
Additionally the city's O'Hare and Midway airports will now be able to offer slots, with it said that the majority of the state's gambling revenue will be used to fund a $45bn, six-year 'Rebuild Illinois' plan that includes roads, bridges, transit and education among other projects.
The announcement was hailed by Richard Schwartz, president of Rush Street Interactive, who said: "Thanks to Governor Pritzker's leadership, and the weekend overtime hours put in by the General Assembly, we are excited by the legalisation of sports betting and the prospect of making history by bringing our innovative and award-winning mobile platform to Illinois.
"Just this past week we made history in Pennsylvania for being the first to launch an online sportsbook. We look forward to bringing the same top quality, award-winning products and services to players in Illinois where we are headquartered."
Upon an initial three licences becoming available a $20m cost is to be attached, renewable after four years for a further $1m, with operators also welcoming the legislature's decision not to include an integrity fee, although leagues and colleges will be able to restrict the types of wagers on offer.
In a statement to ABC 7 Chicago, Mayor Lori Lightfoot also welcomed the judgement: "I want to thank Governor Pritzker, President Cullerton, Speaker Madigan and members from both parties in the Illinois General Assembly for advancing our shared vision of a stronger, more equitable future for Chicago and Illinois.
"We are securing new resources to improve our parks, schools, public transportation and roads through a new capital bill; new revenue for the city and the end to an old inequity through legalised cannabis, and the first step in approval for a Chicago casino that will help shore up the city's seriously underfunded pension funds and creating new jobs.
"Chicago is fortunate to again have leadership in the governor's office that recognises our city's role in driving economic growth and prosperity for the entire state. By continuing to work together in a spirit of cooperation and collaboration to confront shared challenges head-on, we can and will make meaningful progress to unlock new investments for growth in Chicago communities that have been left behind for too long."