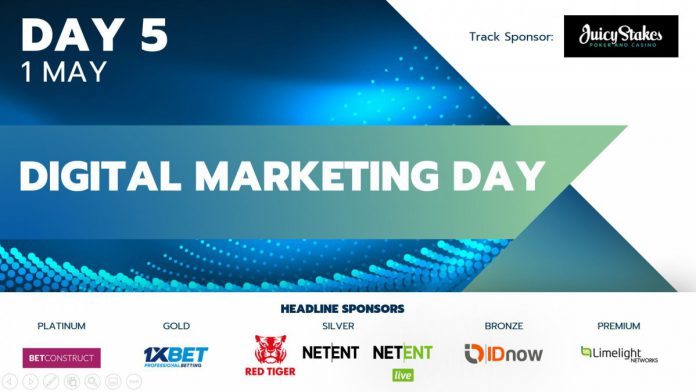 Sponsored by Juicy Stakes, day five of SBC's Digital Summit saw the industry come together to discuss digital marketing, with a specific panel titled 'The Thin Line Between Marketing And Enticement' touching on whether the industry needs to become more circumspect in the way it markets itself given the nature of its product offering. 
Kicking off the track discussion, moderator and NEL Advisory CEO Dan Phillips thanked SBC for setting up the summit before introducing the panelists and laying out the points that would be hit throughout the discussion, such as how COVID is impacting the marketing activity within the industry.
Ian Sims, CEO, Rightlander, discussed the initial reaction to COVID-19 and discussed the difficulties and the conflicts caused regarding marketing and compliance: "With COVID there was a big rush initially when people started getting furloughed and we were in lockdown. We were told we don't want people stuck at home being taken advantage of because they had time on their hands, so we started analysing content and found a few sites that were saying 'you're at home try gambling'. 
"I think it was more ill thought out rather than unethical. It was hurried without being thought of and most of the affiliates involved had taken down the messages quite quickly after being contacted. 
"There will always be a conflict between marketing and compliance. You will always get people who decide to push the boundary or not know what they have to do to be compliant. Affiliates in the past were not passionate about gambling but they knew they could make money from the industry. 
"Consequently you ended up with boring content that ranked them well. The challenge for the operator is to find an affiliate that knows what they're on about and knows what triggers problem gambling and can work to help and educate them. The operator has to take a step back to do this properly and look at the affiliate and what content they are creating before partnering."
Touching on the aspects of problem gambling and the damages irresponsible actions are causing the industry, RAIG chairman Clive Hawkswood added: "Most people are trying to act responsibly, unfortunately in gambling some are looking for the weakest links. We are judged by the outliers and worst examples and we've seen casinos marketed as 'covid free casinos' and when people are looking for stories, the mainstream media are looking for those irresponsible cases. 
"Whether we're seen as being responsible or not is harder during the COVID situation as if we don't get this right now then it is expected that very bad things will happen in the future of the industry."
Continuing the discussion of irresponsible industry action, Mathew Symmonds, CEO at Web Analysis Solutions, commented on the current situation and offered a hopeful outcome for the future of the gambling sector post COVID.
"Whenever there is an opportunity to make a quick buck there are people there who will use any situation to their advantage. We use social media for branding but when the crisis hit we saw an affiliate use the term 'stay home poker' and there are certain terms which are not right and borderline," he commented.
"We are hands off on a situation like this. We are mainly football and we don't want to stray from that because it looks disingenuous because 80 per cent of our audience are return visitors so we are conscious about not changing our offering or our identity as a business.
"I don't think things like poker will stick because you need a lot of time to play poker. I think poker has more of a chance of sticking than casinos or slots because it's more of a skilled base and you don't lose very quickly, it's an attractive proposition at the moment but I can't see poker maintaining its levels. I can't see esports maintaining its levels either, but in reality I don't think their numbers are too high because the number one most bet on thing for us has been both the Belarusian and Nicaraguan premier league, so still soccer.
"Affiliates will always bend the rules which is why the industry has had to continually regulate and apply stricter rules . I would prefer the industry to be more self regulating and for affiliates to have more structure and be more responsible themselves. Affiliates need to implement CSR themselves to go beyond the rules and say as a company they are going to go further.  Maybe that will come out of this crisis." 
Joining Sims, Hawkswood and Symmonds on the day-5 panel was David da Silva, CEO, EasyOdds, who concluded: "We look at the COVID disruption as a lull. It will finish and sports will resume. I think things will revert back to how they were. We are using this as an opportunity to do some housekeeping." 
The SBC Digital Summit ran from 27 April to 1 May 2020 and featured seven conference tracks, a virtual exhibition and virtual networking lounges which attracted an estimated 10,000 delegates logging in from around the world.