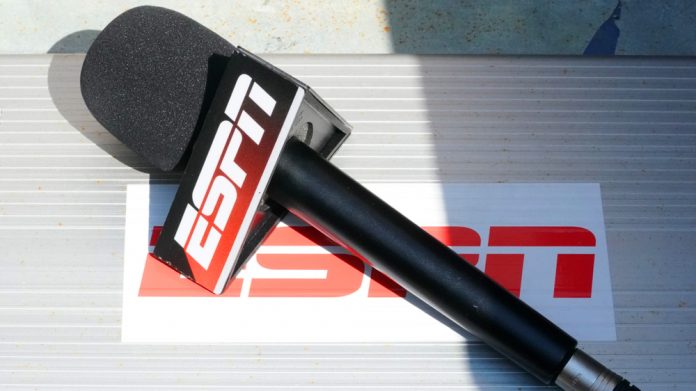 Sports entertainment enterprise ESPN has rolled-out multi-year agreements with Caesars Entertainment and Boston, Massachusetts, headquartered DraftKings.
The former includes integrations from ESPN's digital platforms to sportsbooks from Caesars Entertainment's sports betting partner, William Hill. The deal comes shortly after William Hill became the exclusive sports betting operator for Caesars Entertainment, following the merger with Eldorado Resorts.
Link integrations to William Hill's sports betting apps, geo-targeted to legalised sports betting states, will appear on ESPN.com web and mobile web as well as the ESPN Fantasy app. 
As part of the new agreement, Caesars Sportsbook by William Hill will also become a sponsor of ESPN's fantasy products, deepening an existing relationship as ESPN's exclusive odds provider. 
"With Caesars utilising odds from William Hill's sports betting data, we are able to deliver content in new and innovative ways," said Mike Morrison, vice president of business development and innovation at ESPN. "Our multi-dimensional relationship is a testament to the growth and opportunity in the sports betting space."
Since becoming Caesars Entertainment's exclusive sports betting partner a month ago, William Hill has opened 12 branded sportsbooks at Caesars' properties in Nevada, Iowa, and most recently, New Jersey. Pending regulatory approval, the remaining entities across the Caesars portfolio will be re-branded in the coming weeks. 
The mobile sports betting app, Caesars Sports Book by William Hill, will soon be available in Indiana, Pennsylvania, New Jersey and Nevada pending regulatory approvals. Once completed, William Hill will operate in more than 170 retail locations across 13 states.
"As our exclusive sports betting operator, William Hill has added immediate value to Caesars Entertainment's portfolio of properties nationally," said Tom Reeg, CEO of Caesars Entertainment.
"Our new agreement with ESPN, as the largest provider in sports content, completes what is sure to be a momentous partnership in gaming and sports wagering."
Furthermore, ESPN has debuted a furter agreement with DraftKings which sees the group become a co-exclusive sportsbook link-out provider and exclusive daily fantasy sports provider of the media giant. Links across ESPN digital platforms will connect fans to DraftKings' products and services. 
Under the agreement, DraftKings will now be able to integrate its products and offerings across ESPN's digital platforms, in addition to powering existing and future ESPN studio shows with dedicated segments for promotion, beginning with daily fantasy sports.
"ESPN helped revolutionise the 24/7 sports news cycle and continues to be the go-to source for many fans today on the latest and largest sports stories," said Jason Robins, co-founder, chairman and CEO of DraftKings. 
"We look forward to this collaboration to exclusively showcase DraftKings' daily fantasy content and offerings while also advancing further visibility and mainstream adoption of our regulated sports betting products."