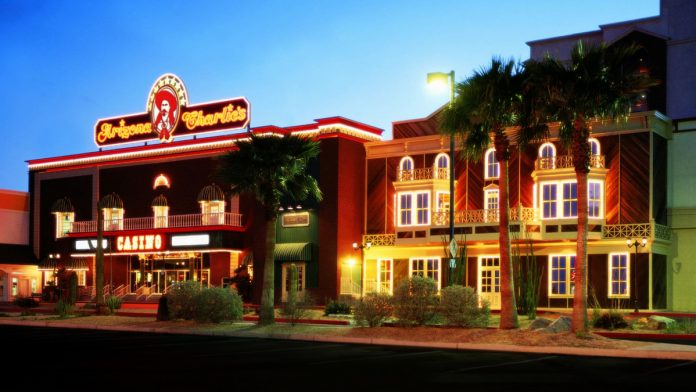 Golden Entertainment has announced that it will be providing COVID-19 vaccinations at on-site clinics at all of the company's casinos for team members and their families.
They include The Strat Hotel, Casino & SkyPod; Arizona Charlie's Decatur and Arizona Charlie's Boulder in Las Vegas; Aquarius Casino Resort and Edgewater Casino Resort in Laughlin; and Pahrump Nugget Hotel & Casino in Pahrump, Nevada. 
Golden Entertainment team members will receive convenient access to vaccines at the on-site clinics at the location of their choice. In total, there are nearly 6,000 Nevada team members working for Golden Entertainment, which includes those working for the company's 66 PT's Taverns and Golden Entertainment's gaming route operations. 
The company will also provide incentive offers for team members to complete their vaccinations, including $25 gift cards, swag bags and entry to win a staycation at one of its properties. Everyone who is vaccinated will also receive a 10 per cent coupon valid at any Albertson's, Vons or Safeway.
In partnership with Albertson's, Vons and Safeway, the dedicated on-site vaccination clinics will have access to doses throughout April and May, and will administer both the Johnson & Johnson and Pfizer vaccines
"The health and safety of our team members, their families and our guests, is of the utmost importance," said Blake Sartini, chairman and chief executive officer of Golden Entertainment. 
"As we look to support the recovery of our hospitality industry in Nevada, we are strongly encouraging all of our team members to get vaccinated while trying to make it as convenient as possible for them to do so."
Last month, the Las Vegas headquartered firm voiced encouragement at footfall amid easing restrictions, as tightened measures introduced during 2020's final quarter impacted the group's overall results for the period.
For the three month period ending December 31, 2020, the company recorded revenue of $205.6m, which represents a 15 per cent drop from $242.1m.
Net loss for the quarter was $18.5m, compared to a net loss of $7.7m in the corresponding quarter a year earlier, with adjusted EBITDA closing at $38.9m (2019: $43.1m).
Casino revenue was $112.6m in the third quarter of the year, a 25 per cent drop from 2019's $150.2m, with adjusted EBITDA coming in at $33.4m (2019: $41.7m).