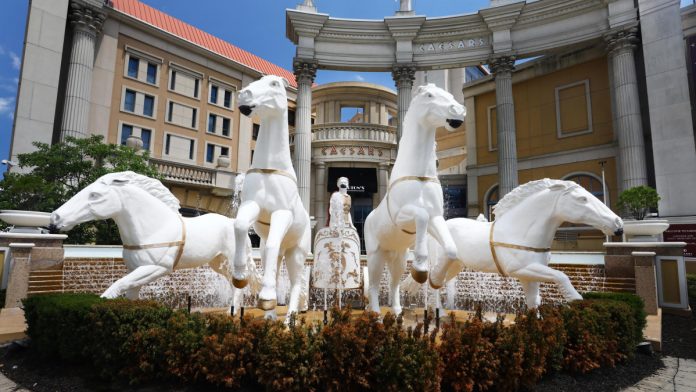 Caesars Entertainment has unveiled a $400m Atlantic City 'master plan,' which will bring a series of upgrades and remodelling to its roster of properties in the resort city.
The casino operator says that it is aiming to bolster the region's position as "a Las Vegas-style destination," where it owns and operates three venues, namely Caesars, Harrah's Resort and Tropicana Atlantic City.
The plans include remodelled room towers; freshly appointed interior design elements; enhancements to the casinos' gaming floors; new dining concepts; and more within the next three years.
The first phase of the project is slated to be a $170m renovation of guest rooms and suites at Caesars and Harrah's, which it aims to debut during the coming summer season.
"My administration has teamed up with corporate, community and government partners in an effort to re-establish Atlantic City as a premier tourist destination in New Jersey," said Governor Phil Murphy. 
"This $400m investment in the city supports our focus on growing the economy, continuing to support Atlantic City, and creating jobs in our state, and I applaud Caesars Entertainment for leading the recovery effort."
This summer, Caesars will unveil $170m in room enhancements designed by Interior Image Group at Caesars and Harrah's Resort, beginning with approximately 600 guest rooms and suites in Caesars' Centurion and Ocean Towers, as well as Harrah's Atrium Tower.
"Building on our rich, 40-year legacy in the market, we are excited to introduce the new Caesars Entertainment to Atlantic City through our $400m investment and development plan," explained Anthony Carano, president and COO of Caesars Entertainment. 
"These exciting plans over the next three years will revitalise Caesars' brand of hospitality, and will continue to position Harrah's, Tropicana, and Caesars Atlantic City as leading resorts in the market. We remain bullish on Atlantic City, and this commitment will further position us for long-term growth and success."
Marty Small Sr, Atlantic City mayor, added: "Caesars Entertainment is the country's largest gaming company, and we are thrilled that Atlantic City is home to three of their casinos. 
"This year marks a new era for the City, and we appreciate Caesars' dedication to the market as the largest employer in Atlantic County. Their three-year reinvestment plan doubles down on this commitment, which will undoubtedly reinvigorate Atlantic City."