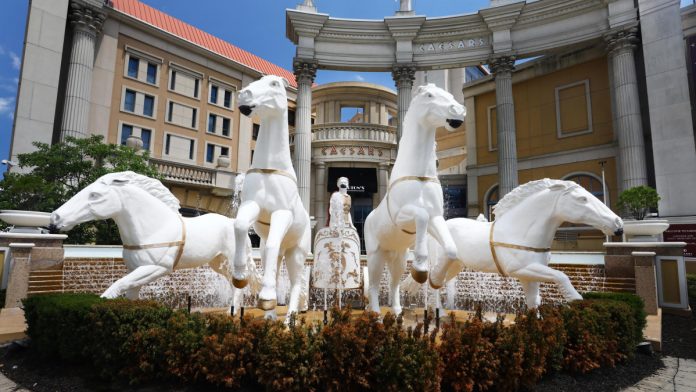 Caesars Entertainment has reported a significant net revenue spike during the year's first quarter to $1.69bn (2020: $473m), but net loss for the period has widened to $423m (2020: $173m).
However, this revenue performance represented a seven per cent decline from the $1.82bn recorded by the legacy Caesars business prior to its merger agreement with Eldorado Resorts, which was finalised in July 2020.
Net loss from continued operations finished up at $431m after a $79m benefit for income taxes, with $7m income from discontinued operations and $1m attributable to non-controlled assets reducing that to $423m.
Revenue from the group's Las Vegas properties dropped 39.5 per cent to $497m (2020: $822m), with regional operations up 26.7 per cent to $1.1bn (2020: $874m).
The group's managed, international, and Caesars interactive entertainment segment dropped 21.3 per cent to $90m (2020: $127m), with corporate and other at $4m (2020: $5m). 
The group's casino and pari-mutuel commissions; food and beverage; hotel; and other reporting segments all scored increases to reach $1.14bn (2020: $340m); $166m (2020: $56m), $215m (2020: $48m), and $178m (2020: $29m), respectively, when compared to the legacy Eldorado businesses $423m revenue figure.
Tom Reeg, CEO of Caesars Entertainment, commented, "Our first quarter results improved significantly versus the fourth quarter of 2020 as the pace of vaccinations across the country accelerated, and consumers started to resume more normal behaviour. 
"We are excited to see the dramatic improvement in operating efficiencies throughout our enterprise which we believe are sustainable going forward."
The group also provides a comparative same-store basis breakdown, which includes the results of ongoing operations combined with those of the legacy business prior to the closing of the aforementioned merger, and eliminates the results of properties that have been divested.
On this basis, revenue dropped 16 per cent to $1.86bn (2020: 2.21bn), with its Las Vegas division down 39.5 per cent to $497m (2020: $822m), regional remaining consistent at $1.26b, and managed, international and CIE dropping 21.3 per cent to $100m (2020: $127m).
"We are excited about the ongoing improvement in operating trends which we expect will lead to increased free cash flow generation," said Bret Yunker, CFO of Caesars. "We ended the quarter with $1.8bn of unrestricted cash and our revolver availability remains unchanged at $2.1bn."