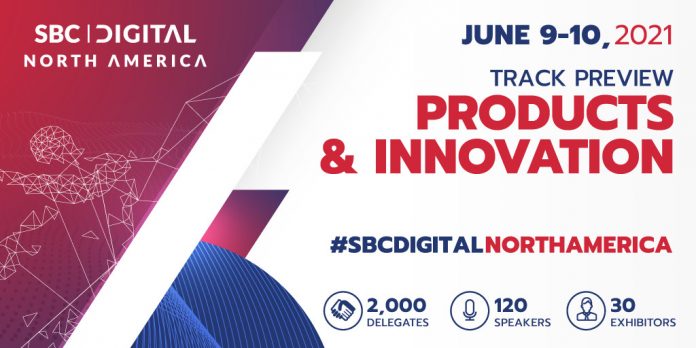 The SBC Digital North America conference and trade show is set to examine the role ground-breaking new products and tailored content will play as US sports betting operators increase their focus on player retention. 
The agenda for June 9, the opening day of the online event, features the Products & Innovation track, which will see renowned experts such as Seth Schorr (CEO, Fifth Street Gaming), Benjie Cherniak (principal, Avenue H Capital, LLC), and Jay Croucher (head of trading, PointsBet USA) detailing the latest developments in technology and games.  
In Europe, the success of powerhouse brands such as bet365 and Sky Betting & Gaming has been driven by an ongoing commitment to innovation, which manifests itself as both more user-friendly websites and apps, and the regular introduction of new, engaging content. 
As the markets in US states mature and move beyond the initial big budget race for player acquisition, forward-thinking operators will look to replicate that strategy by utilising the latest technology and content to create differentiated product offerings and improve retention levels. 
The Products & Innovation track will investigate what changes and additions players can expect at leading sportsbooks over the next 18 months and beyond, with input from operators and some of the suppliers developing the next generation of products tailored to the North American market.
The agenda for the track includes 'Riding the Next Wave of Innovation – Exchange Wagering to eSports, Where to Place Your Bets?' The session will see industry veterans Schorr and Cherniak join a panel moderated by Melissa Blau (CEO, iGaming Capital) to assess which of the many new product types are most likely to be successful in the long term. 
Another key session is 'Attracting the Big Stakes – How In-Game Wagering Will Transform Your Business', which will look at how to develop the type of dynamic experience that will engage players with in-game markets for the NFL, NBA, MLB, and NHL. 
Croucher will be joined by Alex Kane (founder, Sporttrade), Scott Emeterio (CEO, Ball Street Trading), and Dan Zucker (president, Zucker Media Group) to analyase how North American operators can make in-game as central to the betting experience as it is in soccer-mad international markets. 
The Products & Innovation track will also feature sessions dedicated to the development of new U.S.-focused content, and to the latest ideas for integrating the loyalty programs of retail sportsbooks and brick-and-mortar casinos into mobile sports betting acquisition and retention schemes. 
Sue Schneider, VP growth and strategy for the Americas at SBC, said: "As states have legalized sports betting, operators have moved quickly to win market share by spending huge sums on player acquisition. They now need to ensure they secure a healthy return on that investment by converting new players into long-term customers.
"Having great content that stands out from the opposition and delivering an excellent user experience is a tried and tested way for international sportsbooks to do that. The Product & Innovation track at SBC Digital North America will outline how to make that strategy work here and reveal some details of the most exciting products currently in development."
The SBC Digital North America conference agenda for day one also includes the Leaders in Sports Betting, Regulation, and Marketing & Affiliation tracks, before attention turns to Leaders in igaming, Responsible Gambling, Payments, and Standards on the second day.
Alongside the conference, delegates can look forward to viewing the latest sportsbook, igaming, and payments products in the interactive exhibition, and to taking part in a program of themed networking roundtables.
Register for your free pass for SBC Digital North America and find out more about the online conference and expo at the event's official website: https://sbcevents.com/sbc-digital-north-america/.