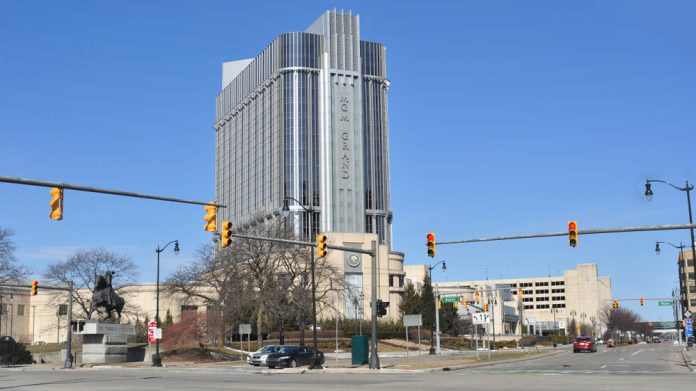 Michigan sportsbooks have become the latest to detail a continuance of sports betting declines through July, as the region's online casino revenue rose to surpass $500m in lifetime revenue.
The month saw online casinos and poker rooms produced $92.3m in gross gaming revenue, which is up 3.5 per cent from $89.2m month-on-month.
Casinos took in $3m per day in wagers over the 31 days of July, a rate consistent with June, and yielded $17.1m in state taxes and $6.4m in local taxes.
BetMGM/MGM Grand Detroit continued to dominate the online casino and poker market with $33.8m in gross gaming revenue.
Since launching in January, online casinos and poker rooms have generated $575.4m in revenue and $141.8m in state and local taxes.
"Many of the same forces that slow sports betting in the summer, including summer vacations, also affect online casinos," said Eric Ramsey, data analyst for the PlayUSA.
"Michigan is still a young market that hasn't yet reached maturity. The addition of live dealer games will make a difference going forward. And as the summer turns to fall, we should once again see the revenue at online casinos grow."
Michigan's online sportsbooks generated $188m in bets in July, a figure which represents a 20 per cent drop from $235.1m in June.
Combined with $18.3m in retail wagering in July, which was announced last week, Michigan's online and retail sportsbooks accounted for $206.3m in wagering. That total is down 20.5 per cent from $259.4m.
This is the lowest volume recorded in a month since sportsbooks collected $150.8m in January, when online betting first launched on January 22. However, Michigan's online and retail sportsbooks have now accepted $1.99bn in wagers since retail sportsbooks launched in March 2020.
FanDuel topped online operators in July with $54.5m in wagers and $7.8m in gross revenue. DraftKings was second in the state with $53.4m in wagers.
"Pursuits other than gaming are priorities for many in July, whether that is a trip to the lake or a backyard barbecue," noted Matt Schoch, analyst for PlayMichigan. 
"The good news for sportsbooks is that with the July dip now out of the way, operators can look forward to Michiganders returning from their summer vacations and for the excitement for the football season to build."