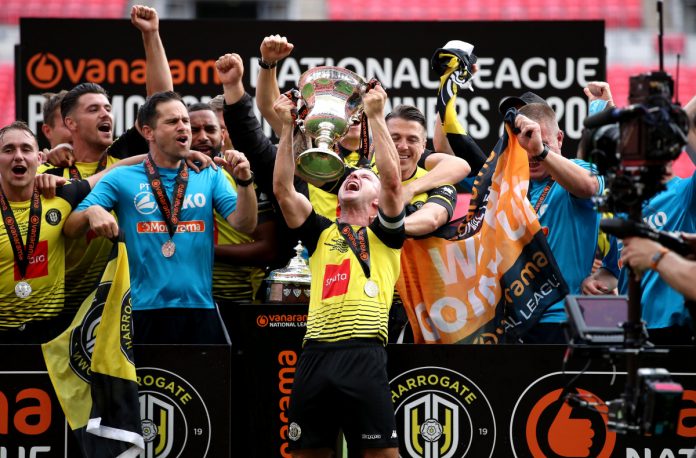 Kindred Group has signed a two-year partnership deal with the National League which will see 32Red and Unibet become the official betting partners of English non-league football's top-flight.
Covering both the 2021/21 and 2022/23 seasons, the brands will feature across the competition's digital channels, stadium advertising and in match day programmes.
"The National League is thrilled to welcome the Kindred Group's Unibet and 32Red brands as our official Betting Partner," commented Mark Ives, general manager for the National League. "We are excited to be working with an organisation who want to prioritise fan and community projects and gambling awareness, which is absolutely perfect timing, as we welcome back supporters in greater numbers than we have been able to over the last 18-or-so months.
"That period has been extremely challenging for us all and so we are very welcoming of this partnership for at least the next two-years."
Kindred Group hailed the "community-first approach" which is in line with its sponsorship of Derby County, Rangers and Middlesbrough, which sees the clubs benefit from six-figure funding to help run the Team Talk initiative – a platform that uses the club and its staff, including players and manager, as a mechanism to engage with men about their mental well-being.
Neil Banbury, UK general manager, Kindred Group, added: "This is a hugely important day for everyone connected with the Kindred Group – we are excited and proud to be The National League's official Betting Partner.
"Simply, non-league football is the lifeblood of our national sport. The elite level can only exist if the base of the pyramid thrives – and we hope that our investment will help to support that. At the heart of this are the supporters, of course, with their unwavering loyalty.
"The last year-and-a-half has shown us how vital they are to the clubs and to their communities. That is why we'll be making sure that supporters see and feel a benefit from our sponsorship of their league. More broadly, Kindred remains committed to reinventing the sports sponsorship model – because we want a model that benefits the wider community."
To celebrate the announcement, Kindred will be giving away tickets for National League matches on September 4 – which is an international fixtures weekend – with fan competitions and giveaways set to be a feature throughout the partnership.
Earlier this year, Kindred "broke new ground" by becoming the first gambling operator to disclose the share of revenue derived from harmful gambling with the aim to reach zero per cent of revenue from harmful gambling by the end of 2023 and report this on a quarterly basis.
For the second quarter of 2021, the share of revenue from harmful gambling was 4.3 per cent.