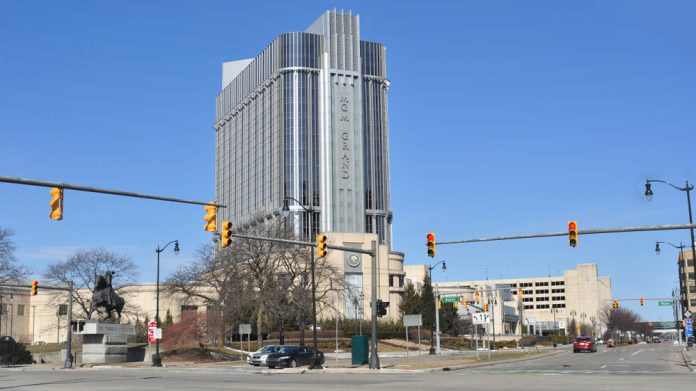 The three Detroit casinos have reported a slight month-on-month decline in revenue through September, as the Michigan Gaming Control Board reports that MGM Grand Detroit maintained its position at the top of the gaming charts.
This saw the trio record $110.4m (August: $113.8m) in monthly aggregate revenue through the 30 days, with table games and slots coming in at $106.9m (August: $112.1m) and retail sports betting generating $3.5m (august 21: $1.65m).
September market shares saw MGM came out on top with 45 per cent, ahead of MotorCity Casino and Greentown Casino which recorded 34 per cent and 21 per cent, respectively.
The gaming venues reported $87.9m in monthly aggregate revenue during September 2020 while operating at 15 percent capacity due to COVID-19 health concerns. In September 2019 revenue finished at $112.3m.
Table games and slot revenue rose year-on-year across all properties, with MGM up 34 per cent to $48.4m, Motorcity increasing 13.4 per cent to $36.5m, and Greektown rising 112.4 per cent to $22m.
Monthly table games and slot revenue rose 21.6 per cent from September 2020, but decreased 4.7 per cent compared with results from one month earlier.
The casinos paid $8.7m in gaming taxes to the state of Michigan compared with $7.1m for the same month last year, and submitted $16.8m in taxes and development agreement payments to the city of Detroit.
For the period ending September 30, table games and slot gaming revenue rose 105.9 per cent compared with the same time frame in 2020.
During the third quarter revenue was up 11.2 per cent, with MGM on top with $154.4m, up 138.4 per cent, ahead of MotorCity's $111.6m, a 95 per cent increase, and Greektown's $68.8, which also represents a 95 per cent uptick.
During the third quarter, the three Detroit casinos paid $27.1m in gaming taxes to the state compared with $12.7 for the same period one year earlier.
Total sports betting handle came in at $32.5m (August: $16.2m), with the casinos also reporting total gross receipts of $3.49m, which is up from the $1.64m felt through august.
Retail sports betting qualified adjusted gross receipts by casino were MGM's $1.34m, MotorCity's $1.23m, and Greektown's $883,813.
The casinos paid $130,885 in retail sports betting taxes to the state, and reported submitting $159,970 in taxes to the city.
Furthermore, the MGCB also detailed that fantasy content operators reported total adjusted revenues of $920,250 and paid $77,301 in taxes.
Through August 31, fantasy contest operators reported $10.4m in total aggregate fantasy contest adjusted revenues, and paid $869,543 in taxes this year.