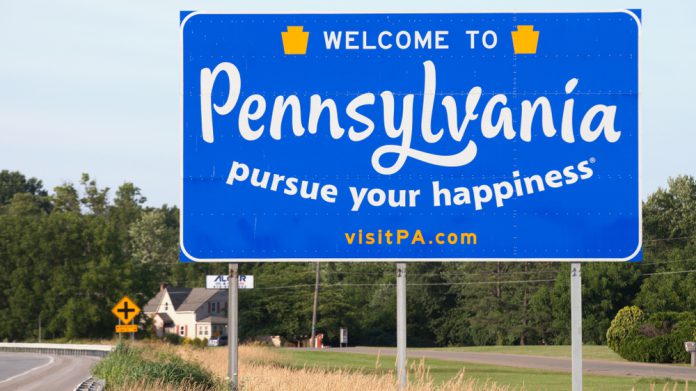 Pennsylvania sportsbooks secured a wagering high amid the third anniversary of legal sports betting in the state, as online casinos and poker rooms shattered the state record with $117.04m in gross gaming revenue.
This nudged the state's annual total to $1.05bn through the first ten months of the year, joining New Jersey in topping the $1bn milestone in annual online casino revenue through October.
Revenue during the month was up 58.8 per cent from $73.7m in October 2020 and 4.7 per cent from $111.8m in September. The previous revenue record was $113.8m, set in May.
Wagering at online casinos hit $4.1bn in October, up from $3.5bn in September. The win produced $102.9m in taxable revenue, generating $43.3m in state and local taxes.
"Online gambling continues to thrive, while the state has a consistent and significant revenue generator," commented Dustin Gouker, analyst for the PlayUSA. 
"Pennsylvania taxes its online gambling industry at a higher rate than any other open market in the US, and that decision made years ago by regulators has proven to be a valuable one for the state."
Moreover, the Keystone State's record $776m in sports betting, which coincided with the region's third anniversary, nudged lifetime handle beyond $10bn.
This monthly figure represents a 47.6 per cent increase from $525.8m record on year earlier, as well as 34.1 per cent from $578.8 million in September. Only New Jersey and Nevada have ever produced more in bets over a single month.
Operators in Pennsylvania generated $42.3m in gross revenue in October, down 11.6 per cent from $47.8m in October 2020 and 12.1 per cent from $48.1m in September. 
This fell well short of the record $49.3m in revenue generated in January. Sportsbooks produced $23.5m in taxable revenue, which yielded $8.4m in state taxes and local share assessments.
Since launching in November 2018, sportsbooks have generated $10.1bn in wagers, $766.8m in gross revenue, and $192.2m in state taxes.
$714.1m of October's wagers came through online sportsbooks, with FanDuel on top after generating $270.8m in wagering, up from $183.7m in September, with revenue falling to $19.3m.
DraftKings was second in the state with $201.7m in wagers, yielding $9.6m in gross revenue, ahead of Penn National's Barstool-branded app with $71.5m in wagers.
Retail sportsbooks accounted for $62.2m in wagers in October, up 16.2 per cent from $53.5m in October 2020. This created $5.05m in gross revenue, as Rivers Pittsburgh led with $9.3m in bets.
"Online sportsbooks in particular benefit from NFL regular season games, which offer hundreds of options for in-game betting in addition to more conventional bets," stated Katie Kohler, analyst for PlayPennsylvania. "Props and in-game betting are now a cornerstone for growth."