A year of challenges and great change has seen growth and new opportunities emerge for live gaming specialist BetGames.
The company's chief product and business development officer, Ian Catchick, lifts the lid on this year's development strategy before looking ahead to 2022.
CasinoBeats: The recent relaunch of BetGames' flagship lotto product has been a great success; how much of that revamp has been influenced by the changes on a technical level?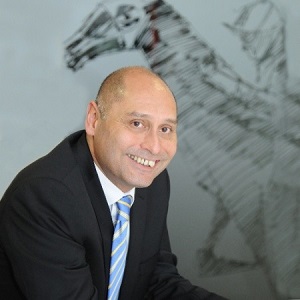 Ian Catchick: We've been focusing on a number of areas in which we can make our games more appealing. From a technical perspective, our aim is to continue to provide a stable, resilient and flexible solution that will delight our customers. Our goal is to always adapt and evolve and with that comes changing and optimising our technology.
Overall, we're delighted with the technical advances we've deployed as part of this ambitious relaunch. It was vital that all the hardware we used was state-of-the-art and this is reflected in the end result.
CB: With the industry focusing heavily on providing mobile and online services, what challenges does this bring to product development and how does BetGames leverage the modern technology resources available?
IC: The advent of mobile-facing content has caused a lot of suppliers to think hard about ways in which they can offer premium content without sacrificing quality, as mobile and PC platforms require different solutions.
At BetGames, we've adopted a philosophy that allows us to overcome these hurdles, through the offering of simple, yet engaging products that focus on the players gaming experience rather than implementing or forcing too much content.
We are also starting to evolve our products based on a 'less is more' philosophy, so that we can provide a clean and compelling gaming experience to our end-customers.
We place a lot of emphasis on trying to simplify and streamline content, so that a customer has a simple and fun playing experience. This often means a lot of care, thought and attention – all of which is needed to look into ways in which we can enable mobile play to be entertaining and accessible to players on all device types, which adds a few layers of complexity for us to work with, but really brings results.
CB: From a supplier perspective, how much of a shift have you seen from retail to online in recent times? Does that influence the R&D that goes into creating new products?
IC: Unsurprisingly, we have seen strong growth across online, although we are very fortunate to also have a strong and loyal retail customer base who will continue to enjoy their gaming experience. For us, this proves that there's a healthy demand within that channel, which shows no signs of changing.
From an R&D perspective, more focus has shifted towards our online offering, and we have more tools available to help us develop and test concepts and understand player behaviours ahead of any major launch. We always focus on developing products that are appropriate for all channels, and we have specific plans and solutions to ensure we have a strong retail product in addition to our delivery.
It's crucial that industry-leading suppliers do not neglect retail operations, simply because there's been an increase in activity online – it's all about delivering a product that can work flawlessly across every channel.
That being said, our current portfolio serves around 1500 web platforms worldwide. Therefore, it's vital that we keep an eye on any developments or shifts that occur within the igaming industry. This is of course something we take very seriously at BetGames, and we're always committed to delivering the very best.  
CB: Having spent over 20 years in the gambling industry, leading product development for a number of major companies, how are you channeling your experience into BetGames' ambitious product strategy?
IC: The BetGames product strategy for the year ahead will be transformative, with a lot of ambitious, exciting, and innovative projects ahead of us. As a team, we are relishing this, and with such a large transformation programme, it can become very easy to work on too many things. My experience helps us to prioritise and ensure that we keep completely focused on delivery, while maintaining focus on world-class execution. After all, this is what's expected from a tier-one supplier.
Additionally, we will drive activities to ensure that the company continues to progress and evolve, whilst maintaining its record of creating immersive live dealer products, as with the Lotto Reloaded re-launch. I truly believe the company is entering a new chapter whilst continuing to reinvent itself as an igaming supplier – which I'm delighted to be a part of.
CB: BetGames has been expanding rapidly in recent times; does that make your job easier or more difficult? What challenges does such growth present?
IC: The pace of expansion adds more pressure to keep innovating, to meet the growing expectations that arise from this, so I would say it's a great challenge to tackle. So far, I would say that we have managed to strike the correct balance of optimisation, innovation and new product development.
This has allowed us to continue focusing on improving our existing product portfolio, whilst also ensuring we can continue to recognise and address the growing needs for the evolving demographics we serve.
To add to the excitement, we are also working on something completely new that we will share more details on in the New Year. While I can't say too much yet, I am confident it will drive the BetGames proposition into an exciting new era, significantly impressing consumers and partners alike.
CB: There have been several product overhauls for BetGames in the last year. Is this set to continue with the remainder of your products?
IC: There will be an ongoing focus on optimising, improving and innovating in all of our existing games across the portfolio, and this level of intensity and pace of change will increase further in 2022. With our recent relaunch and product overhaul, we plan to continue reinforcing ourselves as a supplier to maintain rapid growth. A good example of this is how we will continue to develop our bespoke solution opportunities to our partners, which have proven extraordinarily successful in recent years.
CB: Looking at 2022, what does the BetGames roadmap look like? Can you give us any insight into new product-based or market directions that you have in store?
IC: We have great ambitions, and a committed board willing us to push even harder in 2022. Our plans will focus on three areas – simplification and optimisation of our existing products, development of customer loyalty/engagement tools, and innovation and development of new products with the launch of an exciting new product vertical, which we'll share more information on in the new year.
Looking ahead, there are many exciting milestones in our roadmap that will be introduced in 2022, and this will allow us to continue enhancing our portfolio and ensuring we hit our ambitious growth plans with ease.