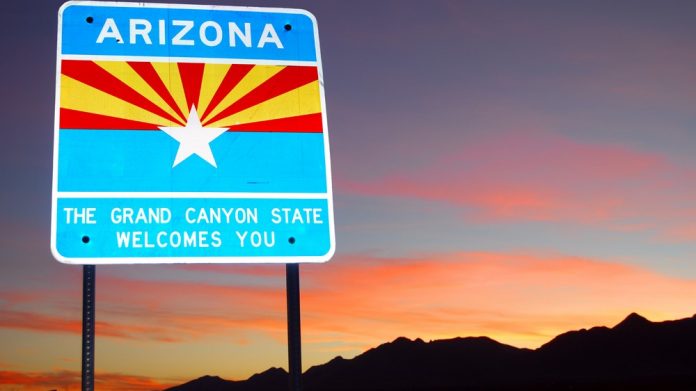 Arizona has become the quickest US state to reach the $1bn landmark in wagering, with the region's online and retail entities stretching their fast start to a third straight month.
The region's sports wagering entities attracted $466.7m in wagers through November, which is down four per cent from the $486.1m in bets generated one month earlier.
Average betting volume remained high as the state's sportsbooks averaged $15.6m in wagers per day in November, which represents a slight drop from $15.7m in October.
Arizona's operators added to what was a record-shattering $723.7m win for US sportsbooks in November. Sportsbooks in the Grand Canyon state won $51.4m in gross revenue, which was up from $37.5m in October.
After $18.4m in promotional credits, the state taxed $31.9m in gross event wagering receipts that produced $3.2m in fees for the state.
However, through the three months, Arizona's sportsbooks generated $1.2bn in wagering; $121.2m in gross revenue, the most of any state over this time frame; and $4.2m in privilege fees for the state.
Analyst state that Arizona has now shattered nearly every US revenue record for a state through its first three months, however, it is warned that this will be short lived following this month's debut in New York.
In total, $459.3m in wagers, or 98.4 per cent of the state's handle, came through online sportsbooks in November, with retail accounting for the remaining $7.4m.
"The timing of Arizona's launch could not have been better for sportsbooks," said CJ Pierre, lead analyst for PlayAZ.
"The early launchers caught the vast majority of the football season and they were in position to catch the early excitement created by the Suns' hot start.
"Plus, Arizona's sportsbooks were able to ride a historic wave of winning in November that easily produced record revenue for operators in the US. All of it has helped the state's sportsbooks get off to an unprecedented debut."
With the launch of SuperBook Sports and Fubo Sportsbook in December, and SaharaBets in January, Arizona is now home to 12 sportsbook operators.
However, despite this growing competition, DraftKings continued to top the market with $148.7m in wagers, all from online bets, which is down from $151.4m in October. This brought $12.5m in gross revenue, up from $10.98m.
FanDuel next in line with $118.0 million in wagers, including $113.3m from online bets, down from $120.8m in October and which included $115.9m in online wagers. November's online and retail bets produced a state-best $16m in gross revenue.
"Anyone who watched an NFL game this fall and saw the number of sportsbook ads knows that operators have been pouring money into Arizona's market so far," Pierre said.
"For good reason, too. Once operators gain a foothold, as DraftKings and FanDuel have in Arizona, it has proven nearly impossible to dislodge them from the market lead."