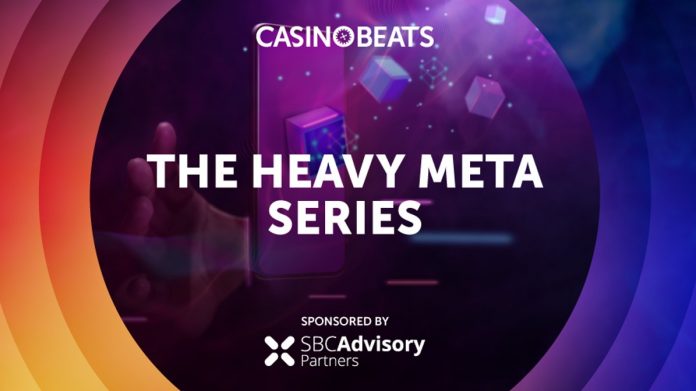 Regulators will "effectively be using pen and paper" to take on the world of digital believes Alex Kornilov, CEO at Betegy, who stated that risks associated with the metaverse can be looked at from two sides.
In the latest edition of CasinoBeats' Heavy Meta series, sponsored by SBC Advisory, Kornilov continued down the regulatory path, stating that the pen and paper route would be a "big risk" and called it a "big step up" from regulating 2D to VR. However, the Betegy CEO believes a solution to getting too immersed in the metaverse is more philosophical and players should "create an outside world that is just as engaging".
The alternative perspective, from Kornilov, looked from the company angle, stating that the risk from these firms is to "invest a lot and arrive nowhere" or, what he believes to be even worse, "effectively becomes a chatroom for your employees".
He said: "This has happened plenty of times to Silicon Valley in the last 10 years – Google Wave for example, basically ended up being used as a hybrid Slack by its internal teams.
"I believe it's going to be key to not assume that if you've cracked the formula for land-based, then you'll in turn be able to create an online world."
Looking into how gambling within the metaverse will work, Kornilov emphasised that it "likely start off with games of skill", such as poker, baccarat, and, in his words, whatever it is that brings players around tables.
"I believe the regulator has plenty of scope to monitor such a world via tech and algorithms to identify problem behaviour."
"Having seen prototypes for virtual casinos all the way back in 2014 when VR was in its early days, the last eight years has seen serious evolution," he continued. "Given the tech available today, it makes perfect sense for getting multiple people involved and competing against each other.
"Virtuals will also power growth, where for example, instead of just betting on the horse, you're sitting at the stadium, or indeed, on the horse! Making that possible will be all about cameras – and just like the '2D' multi-camera world of Formula 1, you can get involved in your own way.
"In effect, we're seeing it open a whole new dimension to what's possible, such as customising and creating your own horses – which could even mean unicorn virtual races! I believe that this ability for players to create their own environment holds plenty of possibilities."
Highlighting another industry within the casino vertical that could evolve within the metaverse is the slot sector, which he believes holds "quite a few parallels to virtuals".
He added: "Take branded slots as we know it now. With the metaverse, you could create a Flintstones branded slots-orientated casino, complete with stone slot machines, dinosaurs and anything else. 
"What's the business case with all of this? In short, it will attract plenty of demographics, and indeed serve as a whole new engagement and acquisition platform. After all, it's about creating a story and narrative people want to share and be a part of."
However, Kornilov believes that traditional sportsbook will be "the last to join the party" stating there is still "too much to be worked out".
"Do you create a betting shop or the equivalent of a sports zone from a Vegas casino?" questioned the Betegy CEO. "In either case – you're catering to widely different demographics, only US customers are used to a Vegas style sports betting experience, while over in Europe – the online industry's growth has been powered by those who don't like betting shops.
"After all, the whole joy of sports betting is the enjoyment of the sport itself. To deliver that experience in collaboration with the likes of CNBC, where a match can be replicated in the virtual world, the number of cameras required to simulate that experience is a long way off. Formula 1 again probably has the lead on this with their interactive betting experience and transforming that into the metaverse will be much easier."
"The majority will be the new generation, who want to customise and create their own virtual world."
Despite the aforementioned, the question still remains… What will online casino look like within the metaverse? Will it replicate the land-based sector? Will it take a lot of aspects from online casino, or will it be a completely new experience unseen before?
Kornilov believes, whatever the outcome, the metaverse casino will appeal to specific types of demographics.
"So, for example, someone born before the 1980s who looks forward to travelling to Vegas for two weeks a year with a saved-up pot is not going to be relevant. The majority will be the new generation, who want to customise and create their own virtual world," he explained.
"So, let's take Caesars or MGM, their land-based business model is designed for those who value the look and feel of that experience, so anyone looking to replicate a virtual copy of that shouldn't expect a player to simply want to transition between the two."
Kornilov went on to state that, to create the metaverse casino of the future, the industry will need people who can design online video games to create a virtual casino inspired by that world, rather than an architect for the land-based world.
"For this to work, it needs to be the video-game world within betting" Kornilov stated. "Either that's a Minecraft-style environment built by players themselves to invite a select group of friends to their own 'custom casino' – or the kind of immersive world that gives the look and feel of being in a Grand Theft Auto style world."
"No-one knows how far this technology can go, or indeed the appetite for mainstream adoption…"
Delving into the security measures, Kornilov stated this side of the metaverse "should be easy" as the sector has a whole sub-sector within the industry catering to the online world so security concerns, such as KYC via the omni-channel, or a mobile account already registered, should solve most when it comes to problem players that need flagging or protection.
Looking at operator controls, the CEO believes that they should expect responsible gaming limits to be copies of what the sector already has, such as deposit limits and time-outs.
"How this evolves in the future is a different question," he noted. "I believe the regulator has plenty of scope to monitor such a world via tech and algorithms to identify problem behaviour.
"However, that means that the regulator would need to be the most tech savvy out there, creating a piece of code (for example) that can be integrated into each operator's operation, and in turn, flag and block accounts once negative patterns are flagged."
Rounding off the metaverse conversation, Kornilov believes the digital landscape has a "huge potential" and stressed, as it stands, the sector can not devine its potential.
He concluded: "No-one knows how far this technology can go, or indeed the appetite for mainstream adoption, so can't be quantified at this point.
"In principle, you'll have two types of companies that set out in this space. The pioneers/early adopters who will learn from trial and error and create the first viable working products. You'll then have the larger companies which will then acquire the smaller, more agile winners who will have learned from this process. This is the same with any new tech.
"I'm hugely confident the metaverse will work – there's going to be surging demand across both VR and online casino in the years to come – get it right, and you'll be onto a winner. But again, as this industry doesn't exist yet, I can't say how big those winnings would be!"