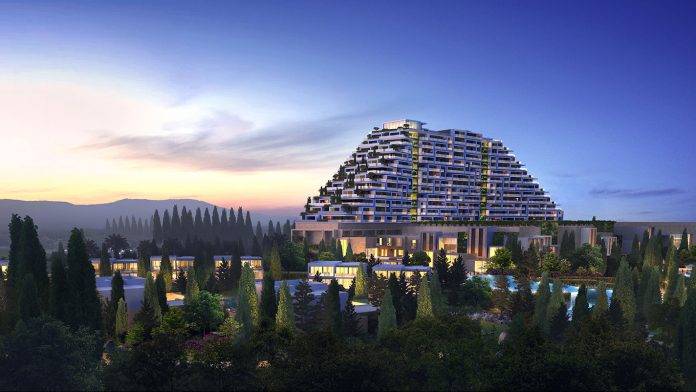 Melco Resorts & Entertainment has once again reaffirmed commitment to ongoing developments, despite voicing expectations of a Cypriot delay, as impacts of the COVID pandemic continue to hamper the firm through the year's first quarter.
In Macau, construction of Studio City phase two is said to be progressing with aims for completion set for December 27, 2022, however, contractor struggles regarding the City of Dreams Mediterranean in Cyprus could cause unwelcome delays for the group.
Despite acknowledging "we remain committed to our development plans in Macau and Cyprus," Lawrence Ho, Chair and CEO of Melco, elaborated on the issue being encountered.
"In Cyprus, construction of City of Dreams Mediterranean continues with a target to open by year-end," he commented.
"However, we are encountering difficulties with our contractor who has struggled with meeting its labour resourcing plans and maintaining progress, which has led to delays.
"We are actively dealing with these difficulties as we remain fully committed towards delivering Europe's first integrated resort in Cyprus."
These comments come as the company reports its performance through Q1, during which operating revenue dropped eight per cent to $474.9m (2021: 518.9m).
This, said Melco, is primarily attributable to heightened border restrictions in Macau related to COVID-19 which led to softer performance in the mass market table games segment.
Revenue at the firm's City of Dreams reported a decrease to $256.7m (2020: $302.5m), Altira Macau narrowly fell to $13.9m (2020: $14.3 m), and Studio City declined to $71.1 m (2021: $97.9m),with the City of Dreams Manila bucking the trend to close at $86.9m (2020: $79.5m)
Furthermore, for the quarter ending March 31, 2022, total operating revenue at the group's Cyprus Casinos closed at $16.1m, compared to what Melco states are "insignificant operating revenues in the first quarter of 2021".
Net loss during the time frame swelled to $183.3m (2021: $232.9m), with adjusted property EBITDA increasing 46.25 per cent to $56 (2021: $30.1m).
"Our results for the first quarter of 2022 continue to reflect the impact of the COVID pandemic," Melco added on the company's performance through the quarter.
"We saw a solid performance in Macau through the Chinese new year holiday period, but COVID-related restrictions and tighter border controls led to Macau GGR falling more than 50 per cent from February to March 2022, and negatively impacted our operating and financial performance for the remainder of the first quarter. 
"Disciplined liquidity management remains a key area of focus. Total debt increased by US$1.3bn year-on-year as we increased available liquidity to support our operations and ongoing development projects.
"We will be prudent in managing our balance sheet and liquidity profile as we manage the business through this challenging environment."