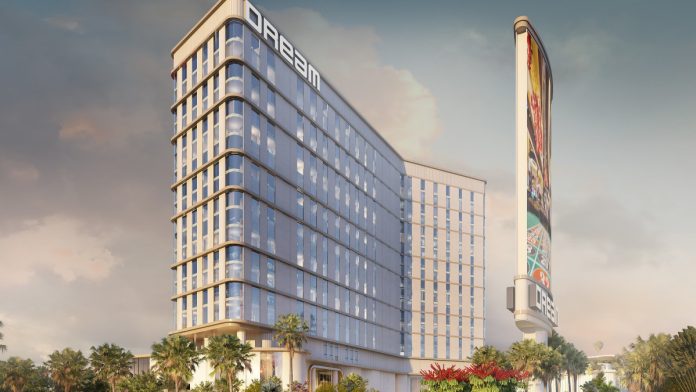 Development has officially commented on the $550m Dream Las Vegas, which it is hoped will be "a driving force in the ongoing revitalisation and rejuvenation" of the south end of the Strip.
The venue, developed by Shopoff Realty Investments and Contour, in partnership with Dream Hotel Group, is expected to open with seven experiential dining and nightlife venues, 12,000 square feet of meeting and event space and a 20,000-square-foot casino, in late 2024.
The hotel and casino is expected to "generate significant tax revenue" and create 4,000 new direct and indirect construction jobs.
Dream Las Vegas, which is set to open in late 2024, is situated across the street from Mandalay Bay Resort and Bali Hai Golf Club and is to become "one of the first hotel properties seen from the iconic Welcome to Las Vegas sign".
Further nearby establishments include the Allegiant Stadium home of the National Football League's Las Vegas Raiders; and the T-Mobile Arena which houses the National Hockey League's Las Vegas Golden Knights; as well as the numerous hotels and casinos along South Las Vegas Boulevard.
"The Dream Las Vegas development is a great investment in our local economy – to boost tourism and create thousands of new jobs," noted Nevada State Governor Steve Sisolak.
"I'm excited to see the resort come to life in 2024, offering even more first-class amenities and service, and extending our state's long history as a leader in hospitality and tourism."
Dream Las Vegas features 531 guestrooms and suites; seven dining and nightlife options; 12,000 square feet of meeting and event space, including a 5,000-square-foot ballroom and 90-seat live entertainment theatre; a 20,000-square-foot casino and gaming floor. Casino and gaming operations will be led by Peninsula Pacific Entertainment.
"All of us at Dream are proud to play a role in creating what will be one of the most spectacular new additions to Las Vegas," commented Jay Stein, Dream Hotel Group CEO.
"Las Vegas is a destination much like our Dream Hotels brand, marked by a vibrant, youthful energy and dynamic cultural arts and entertainment scene unlike anywhere else in the world.
"Together with innovative developers Shopoff and Contour, it is our goal to create an experience-driven property that surpasses expectations, blending forward-thinking design, progressive programming and world-class hospitality with unmatched dining and nightlife.
"We are not just building another hotel, we are building an experience, and one that we hope will contribute substantially to the future of Las Vegas.
"Following the successful launch of Dream Hollywood, California in 2017, I have every confidence that Dream Las Vegas will be our newest star of the west coast and a critical addition to our growing portfolio."
Guest speakers at the ceremonial groundbreaking included Sisolak and Stein, as well as James Gibson, Chair of the Clark County Board of Commissioners, Lisa Cano Burkhead, Lieutenant Governor of Nevada, William Shopoff, President and CEO of Shopoff Realty Investments, David Daneshforooz, Chief Executive Officer of Contour, Michael Lindenbaum, Chief Operating Officer of Dream Hotel Group, and Ross Edwards, Senior Vice President of McCarthy Building Companies.