Promising to be a new kind of casino game that features fresh game logic and an increased emphasis on player entertainment, NSoft's latest title Smash Drops marks the beginning of the supplier's entry into the world of slots.
But as NSoft embarks on this new journey, we spoke to Jadranko Dragoje, MD of Seven Games, to discuss the prevalence of themed slots, the need for innovative and engaging features and how simplicity can sometimes be the best way to keep players entertained.
It's been roughly a year since we first announced that we had mapped out our plans to enter the world of online slots. And what a year it has been!
From day one, an exceptional backend – combined with our modular igaming platform and a dedicated in-house team of designers, animators, and frontend developers – allowed us to create the next level of video slots.
NSoft Casino is easily integrated into other casino aggregators, ensuring a fast gaming experience to remain scalable and stable. Various attractive and dynamic bonus systems and features are at one's disposal; we offer a new wave of non-stop entertainment for players worldwide.
Besides in-house games, our Casino covers over 3000 games through integrations with other platform providers such as Playtech, iSoftBet, BetGames, and many others.
As of our in-house video slots, they feature well-known topics, such as pirate treasure hunts, Egyptian mythology and Atlantis. We have ensured that our custom-made slots cover some very market-specific themes for long-term clients, and we continue to enrich our game portfolio with the new games category to satisfy every player's aesthetic and open new markets. The first in line to enhance the clients' casino game portfolio will be Smash Drops.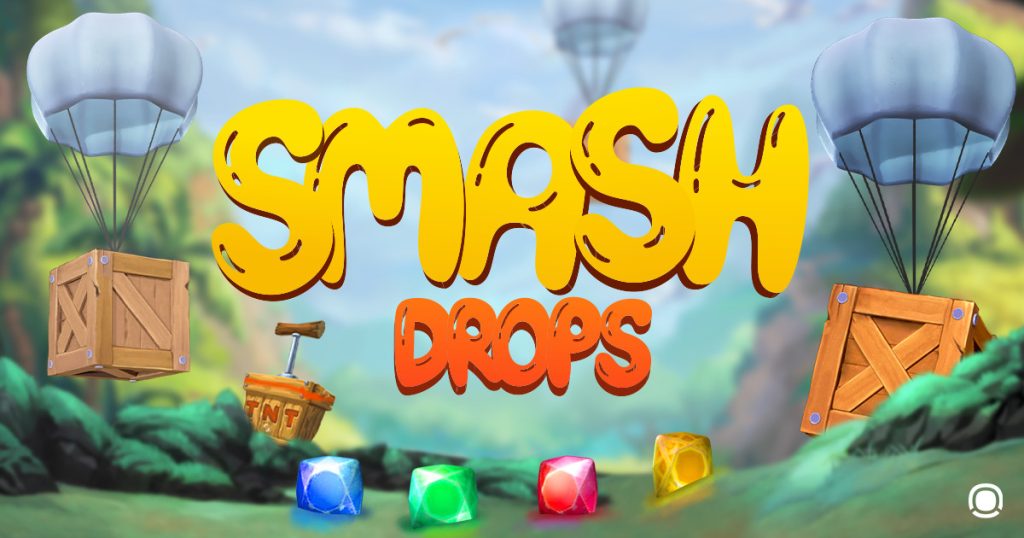 Prizes that fall from the sky – literally!
A new game in the pipeline, Smash Drops is an advanced solution on the market with totally new mechanics, which we call PrizeDrop.
In the game, the prizes quite literally fall from the sky. The player's task is to catch as many falling crates, each of which contains a different type of prizes – from money and multipliers to gems. The winnings are calculated according to the given paytable.
Time is of the essence in this game since the player can extend the time by winning a time freeze but can also lose time if it picks a time trap. Another option is to win a time shield which can protect your timeline from time traps.
At NSoft, we have also created multiple configurations, so different versions of the game are easily deployable.
You have to be lucky; you have to be skilled
Smash Drops is a combination of luck and skill. When a round starts, two boxes per second are dropped, and players can choose whether they want to crash the box or not. A player would get all prizes collected during the round. There are a few types of prizes.
Time prize: a player can get an extra time boost or even a time penalty.
Win prize: those prizes refer to money players can get while playing the game. Prizes are collected, and in the end, the final win prize is the sum of all collected win prizes.
Multiplier prize: the logic is the same as one for money prizes. Players are collecting multipliers, and the final multiplier is equal to the sum of all collected multipliers. Also, the final multiplier multiplies the collected money, and the win equals the multiplier x win prize.
Freeze time: it shields a player from any penalty during the play, for example, -10 sec would not affect the time bar.
Gems: except for classic wins, players would be collecting rare gems and get paid if they collect a certain amount of gems.
What is in the background?
This game is built with the latest WebGL technology using advanced animations with ambient music and rich sound effects. Given the technology is supported on most modern devices, NSoft can guarantee the same gameplay experience on all devices.
We have built this game with simplicity in mind, so onboarding new players will be a breeze. A simple onboarding screen is created that explains the game in three simple steps: choose a bet, smash crates and collect prizes. Smash Drops is influenced by immersive mobile games, which will attract a younger audience accustomed to this kind of gameplay.
Novelty
The PrizeDrop mechanic from NSoft is a novelty, and this advanced solution is a new approach to betting. With a combination of skill and luck, players have the opportunity to win lucrative prizes. During the gameplay, the items contain different rewards or traps. The player's goal is to open as many prize items as possible while avoiding traps. PrizeDrop enables intuitive win potential and can pay out huge winnings, as a player who opens one hundred items receives an additional prize that is calculated as the total win amount multiplied by 100.
Besides the above-mentioned, PrizeDrop originality lies in players' constant interaction with the game. Not to mention the thrill of unboxing itself as the main motivator and driver of the game. Thanks to its flexibility, the PrizeDrop can be used to cover different themes with the same level of excitement for the players, so the best is yet to come.
Smash Drops release will coincide with the release of our engagement system, which will enrich the experience of the player and offer some new possibilities in the social aspect of the game.
We hope that this game will be just the first in a series of brand-new mechanics not currently present in the casino world. The release is scheduled for the final quarter of this year.