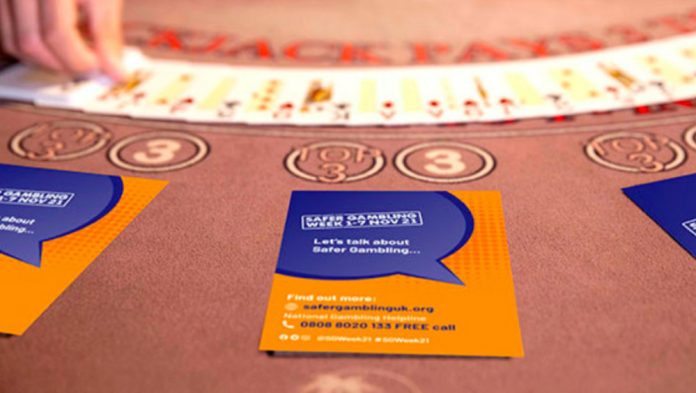 The 5th annual Safer Gambling Week event has kicked off today and will run until October 23, with aims to create a nationwide conversation surrounding betting responsibility.
Organised by the Betting and Gaming Council, BACTA and the Bingo Association, the week will feature an array of safer gambling messages, both online and in land-based venues, to showcase the tools available to aid and source further advice and support.
Michael Dugher, Chief Executive of the BGC, said: "We know that at 0.2 per cent, rates of problem gambling have fallen and are low by international comparisons, which is welcome news, but Safer Gambling Week is further evidence of the regulated industry's determination to keep raising standards.
"Safer Gambling Week is about showcasing safer gambling tools – like time-outs and deposit limits – that exist in the regulated industry to ensure that the millions of people who enjoy a regular flutter continue to do so in a safe and responsible environment.
"It's also, most crucially, about signposting the professional advice, support and help that is out there for anyone who may be struggling with gambling."
The annual campaign will build upon the Safer Gambling Week 2021, during which the promotion and awareness of safer gambling tools, such as deposit limits, led to an increase by 17 per cent in their use vs the previous four-week average.
In addition, the number of social media impressions for last year hit 24.5m, an increase of 16 per cent on the previous year.
Damian Collins MP, DCMS Parliamentary Under-Secretary, commented: "We support the industry coming together to champion safer gambling and highlight the resources available to help reduce harmful gambling.
"We are working quickly to finalise details of a gambling white paper to make sure the rules governing the industry are fit for the digital age."
The latest statistics from the Gambling Commission showed the rate of problem gambling in the year to June 2022 was 0.2 per cent of the population – down from 0.4 per cent the year previous.
Andrew Rhodes, Chief Executive of the Gambling Commission, noted: "Any opportunity to shine a national spotlight on the importance of gambling safely and securely is important. Safer Gambling Week provides that platform but also gives an additional chance for operators to collaborate and share best practice around how they protect their customers. 
"The safety of customers should be at the heart of each and every decision operators make."
Safer gambling describes an industry-wide commitment to reducing the risk of problem gambling and gambling-related harms. A core feature of this commitment is to empower customers with the knowledge of safer gambling tools to manage their gambling more safely.
Miles Baron, Chief Executive of the Bingo Association, explained: "The Bingo Association is delighted to be working alongside BACTA and The Betting and Gaming Council to once again support and promote Safer Gambling Week."  
Echoing the thoughts of the aforementioned voices, John White, Chief Executive of Bacta, concluded: "SG Week provides an opportunity to highlight what the gambling sector does all year round to ensure customers can enjoy their recreational wagering safe in the knowledge that operators are there for them and their peers if things start to get out of control."