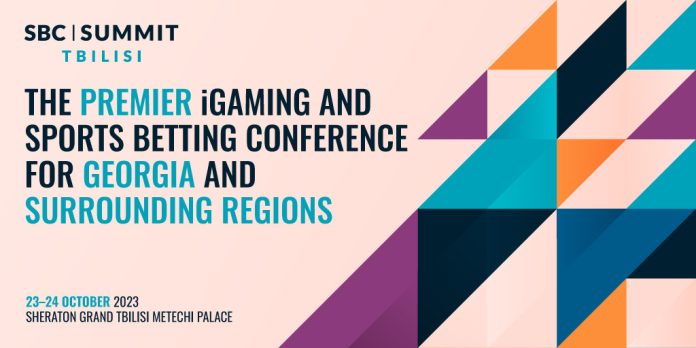 SBC has announced the inaugural SBC Summit Tbilisi, a conference and exhibition uniting industry representatives with a focus on Georgia and the surrounding regions.
Held in collaboration with the Georgia-based igaming and sports management organisation, SMH, the event aims to explore the abundant opportunities within these regions by gathering major stakeholders and decision-makers in the strategically located city of Tbilisi.
SMH previously co-organised the highly successful SBC Summit CIS event in Kyiv in 2021, further strengthening the collaboration between the two organisations.
Scheduled to take place on October 23-24, 2023, at the Sheraton Grand Tbilisi Metechi Palace, SBC Summit Tbilisi coincides with a remarkable period of opportunity. Countries such as Georgia, Ukraine, Romania, Armenia, Kyrgyzstan, and Uzbekistan are currently experiencing notable regulatory changes, offering valuable opportunities for those seeking to engage in early discussions about the untapped potential in Georgia and the surrounding regions.
The decision to select Tbilisi as the host city for the Summit took into account the difficulties encountered by industry professionals when travelling to Western Europe from these regions. Tbilisi, with its visa-free travel, thriving industry, and convenient flight connections, emerged as an ideal choice.
Lasha Machavariani, Founder and CEO of SMH, expressed his high expectations for the event's success, stating: "We are honoured to strengthen our partnership with SBC for the SBC Summit Tbilisi, which will allow us to create a platform to discuss some of the industry's most dynamic regions.
"Anticipating over 1000 delegates — key operators, affiliates, suppliers, regulators, associations and media — in attendance, this event presents a remarkable opportunity for participants to network, exchange ideas, and foster innovation in the igaming and sports betting sectors."
SBC Founder and CEO, Rasmus Sojmark, shared his enthusiasm: "We are thrilled to collaborate with SMH to bring the SBC Summit Tbilisi to life," he said.
"This event will provide a valuable platform to explore the latest trends and developments in some of the most rapidly evolving regions that have been experiencing unprecedented growth. With its strategic location and well-established regulated market, Tbilisi is truly the ideal meeting hub for industry professionals interested in these regions."
The event will offer a blend of education and networking, providing attendees with a conference agenda featuring high-profile keynotes, panel discussions and informative workshops. The exhibition floor will showcase over 20 exhibitors, seizing the opportunity to present their solutions and localised options. 
Andrew McCarron, Managing Director of SBC, said: "The SBC Summit Tbilisi exemplifies our commitment to providing concentrated attention to a diverse set of regions. The event's distinctive emphasis on the Black Sea, Central Asia, and the Balkans, both in terms of educational perspectives and exploring business opportunities, is what sets it apart from more global events."
In addition to exploring the exhibition floor and taking advantage of valuable learning opportunities, the event will prioritise the facilitation of meaningful connections among attendees, incorporating various networking elements throughout the core exhibition hours and evenings.
To delve deeper into the world of the SBC Summit Tbilisi and explore the exhibition and sponsorship opportunities, SBC invites you to register your interest in this event by visiting the official website.