"Americans continue to migrate their action to the protections of legal, regulated sportsbooks in record numbers" noted Bill Miller, American Gaming Association CEO and President, as the country edged closer to a best ever full-year performance. 
As online casino set a quarterly record, sports betting maintained momentum and land-based gaming continued to demonstrate a robust performance, revenue through the third quarter stood at $16.17bn.
This increase of 6.1 per cent represents the second-highest grossing three month time frame of all-time, in addition to an eleventh consecutive quarter of year-on-year growth During the first nine months of the year, this future stands at $48.69m, up 9.9 per cent YoY.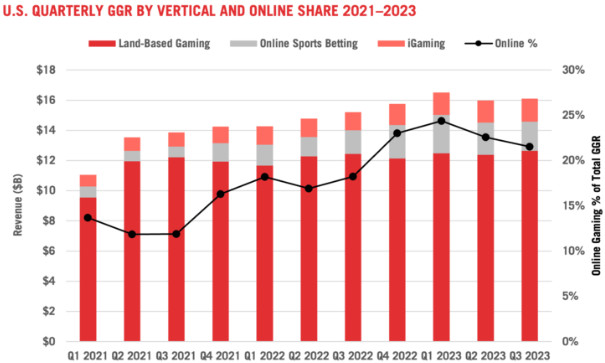 "Even with potential softer Q4 revenue this year, 2023 is poised to become the third consecutive record-breaking year for the commercial gaming industry," the association reported.
Industry revenue grew across all verticals when contrasted with 2022, with igaming surging to best performance to close Q3 at $1.52bn, which is an increase of 22.6 per cent from the same period one year ago.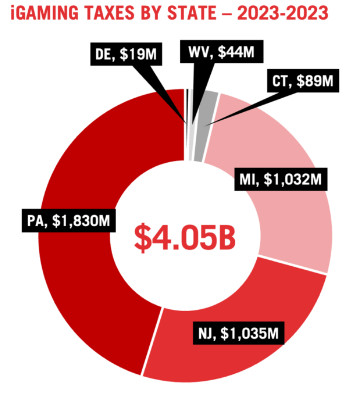 Driven by quarterly revenue records in Connecticut, New Jersey and Pennsylvania, the online gaming space is "on track for another record year" as revenue stands 23.8 per cent ahead YoY at $4.49bn.
On a traditional gaming basis, quarterly revenue growth from slot machines and table games was recorded as rising 1.8 per cent to close at $12.49bn.This surpassed the previous high of $12.3bn that was gained during the current year's first quarter.
Slot and table games also set individual quarterly records, with increases of 1.7 per cent and 3.8 per cent to $8.98bn and $2.64bn highlighted, respectively.
Of the 27 states offering traditional casino gaming a year ago, the AGA noted that 11 experienced an increase in combined revenue from slot and table games during the third quarter.
Through the first nine months of the year, revenue is 3.1 per cent ahead, with 20 out of 27 states tracking ahead of their 2022 performance.
During what is labelled as being " traditionally marked by a slower sports calendar", the pace of sports betting slowed.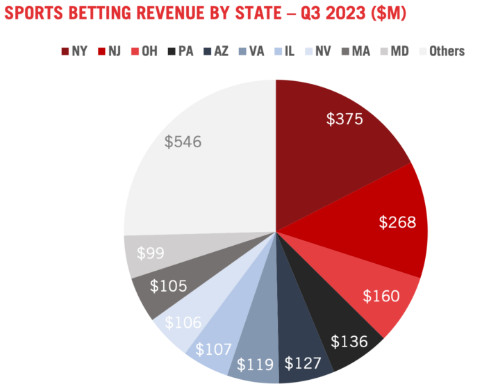 Despite this, revenue increased 22.8 per cent to $2.15bn, which is aligned to winnings across the Maryland (online expansion), Massachusetts, Nebraska (retail only) and Ohio markets that were not operational one year earlier.
Miller commented: "With growth across land-based and online gaming, we are delivering career opportunities for millions of Americans and strong economic contributions to communities across the country through increased tax revenue.
"Our sustained momentum reflects gaming as a first-choice entertainment option for millions of American adults."
Adding: "Americans continue to migrate their action to the protections of legal, regulated sportsbooks in record numbers. This sustained demand only reinforces the need for federal and state enforcement against illegal, offshore operators."