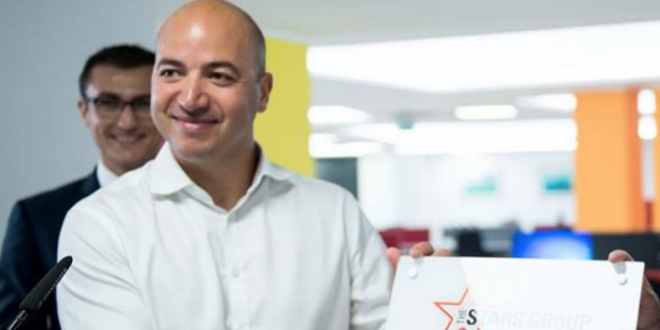 Publishing its results for the 12 months to December 31, Toronto-listed The Stars Group, formerly Amaya and home to PokerStars, has declared 2017 a year of "transformative change and evolution" for its services and operations.
In 2017, Stars' corporate revenues hit US$1.3bn, up from $1.15bn in 2016, with the company reporting a richer product revenue split between its poker and casino/sports verticals.
The Stars Group records online poker revenues of $877.3m for the year (up 3.7 per cent) supported by "fast growth" in its casino and sportsbook verticals, which reported revenues of $384m for 2017, up 45.4 per cent year on year. Adjusted EBITDA was $600m in 2017, up from 2016's $526m.
During 2017, Stars restructured its executive management team, focusing on product diversification, under the leadership of CEO Rafi Ashkenazi (pictured).
This month, Ashkenazi and his new executive team completed their first major investment, purchasing 80 per cent equity in Australian online betting operator CrownBet.
In a statment Ashkenazi, said of the results: "We maintained our global dominance in online poker, with the business experiencing year-over-year growth in that vertical, our online casino has already become one of the largest in the world since its launch in 2014, and our emerging online sportsbook not only recorded meaningful growth in turnover and revenues but started to become a secondary customer acquisition channel.
"During the year, we strengthened our core senior management team, delivered another year of record revenues, significantly deleveraged and continued to strengthen our balance sheet, all while investing in marketing, growth initiatives and technology infrastructure to support the long-term growth of our business," he said.
"In 2018, we are continuing to execute on our growth initiatives, including through geographic expansion, inorganic growth, and improving our focus on and understanding of our customers, and we are beginning to realise our goal of becoming the world's favourite igaming destination."