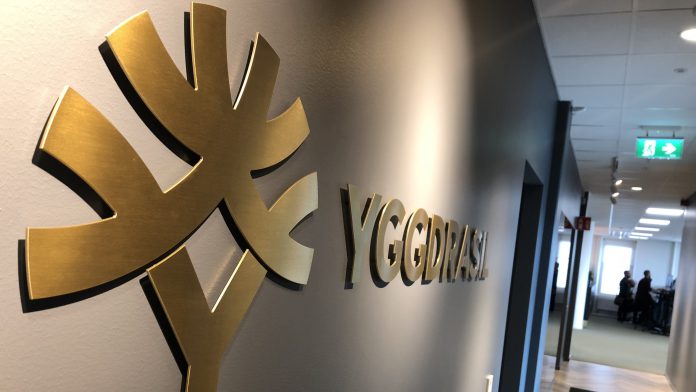 Online gaming content developer Yggdrasil Gaming has again recorded impressive growth with Q1 revenues up 73 per cent year on year, to SEK57.6m (€5.5m) and earnings (EDITBA) up 36 per cent to SEK18.1m (€1.7m).
The EBITDA margin for the period was 31 per cent, a drop on the 40 per cent margin recorded in Q1 2017.
The number of player rounds in the quarter nearly doubled year on year, rising 90.2 per cent to 1.3 billion. Mobile gaming accounted for 61 per cent of total estimated gross game win.
The results come off the back of another busy three-month period for Yggrasil, which is part of Cherry. In the quarter the company announced entry into the table games vertical, confirmed plans to enter the Spanish market with a GVC deal and launched the new studio partnership program, YGS Masters.
Fredrik Elmqvist, Yggdrasil CEO, said: "Once again, I am proud to be in a position to present another action-packed quarter for Yggdrasil Gaming," adding that the numbers "make for impressive reading".
"Innovation is on show in everything we do but particularly in the strategic initiatives either progressed or launched during the quarter," said Elmqvist. "We began the year announcing our upcoming table games product, which we are confident will revolutionise the vertical when it launches later this year.
"The product is based on a new, proprietary technological framework, Redux, which combines the best aspects of live and RNG casino, allowing players to immerse themselves in a fully 3D environment. Similarly, our bingo product, announced at the end of 2017, continues to progress.
"Alongside these new initiatives, we continue to develop new, world-class casino slots content and expand our commercial operations," said the CEO.
"I believe the conditions are right for continued strong growth ahead. We see strong interest in our games and in-game promotional tools among both operators and end players. I am very excited regarding the opportunities laying ahead, and we will continue to prioritise growth and build upon our world-class offering."