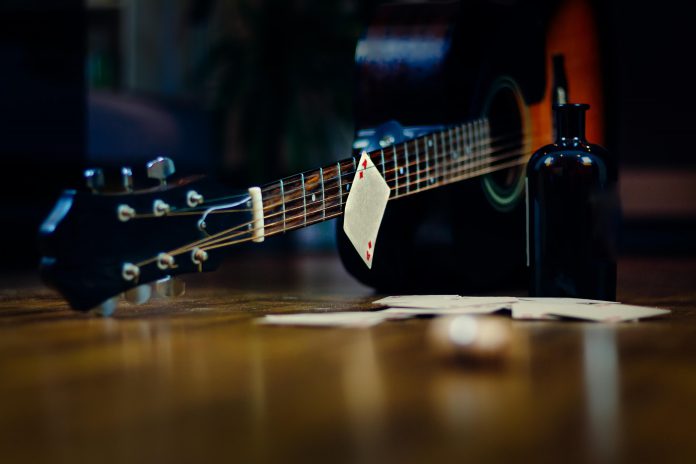 Every Friday, CasinoBeats is thinking out loud
"In the old days, dealers knew your name, what you drank, what you played. Today, it's like checkin' into an airport."
That lyrical burst, poetic as it is, is not from a song but a film – Martin Scorsese's 1995 masterpiece Casino, starring Robert De Niro as casino boss Ace Rothstein. It's all so memorable, so quotable.
But what was the soundtrack? CB cannot recall a note. Perhaps it is because recreating casinos and gambling on screen is an exercise in verisimilitude, in authenticity. Popular music is, by and large, upbeat and meant to lift the spirits. Audiences might swoon at a smoky gangsters' cardroom on screen but who wants to hear a song about it?
It's probably why there are relatively few good gambling-related songs of note. To compile a shortlist of hits, we asked around.
Ace of Spades – Motörhead
Umlaut-loving English rockers Motörhead broke the mould with the 1980 missive about gambling, proposed by Income Access' Nick Say. Commenting on the lyrics, Lemmy said: "I'm more into the one-arm bandits actually, but you can't really sing about spinning fruit, and the wheels coming down." Sing about it? How about a whole industry about it. It's a rock anthem, no question.
Easy Money – Johnny Marr
If that was a go-to choice, this one from Yggdrasil's Mario Petraglia is a little more left field. Its so left-field, in fact, that you won't have heard of it. Maybe Mario identifies with Marr, The Smiths' unsung superhero, always overshadowed by a rampant Morrissey. In any case, Easy Money is about, well, money. Quite how Marr got that money is unclear, perhaps it was in a card game, on a slot or on the lottery. Or maybe it was left on a train seat. It's a good tune, though.
Poker Face – Lady Gaga
Ten years ago, meat-wearing fashion-troubler Lady Gaga burst into our ears with debut album, The Fame. The second single was Poker Face and you're already humming it. It is a perfect four-minute slice of millennial art-pop and it will never go away. It's only been viewed a mere 526 million times on YouTube so click below and give Gaga some much needed support. Altogether now.
Have a Lucky Day – Morphine
No, us neither. But Mario over at Yggdrasil cannot get enough of it. In his and the song's defence, it is one of the few entries in this list that is actually about gambling:
I feel lucky, I just feel that way
I'm on a bus to Atlantic City later on today
Now I'm sitting at a blackjack table and I swear to God my dealer has a tag says 'Mabel'
Lick – Cardi B feat. Offset
Enter Joe Streeter, SBC Manchester's token young person. Actually, there are plenty of young people in the office but Joe is the one who tries to convince us to like 1Xtra and grime and lemon Fanta. His punt for this category is "hip-hop's power couple," Cardi B and Offset with Lick. Check it out, gangstas.
The Gambler – Kenny Rogers
Face-swapping country legend Kenny Rogers restores some order with his classic, The Gambler. The video features Kenny in character as a storytelling (armed) minstrel sharing his encounter with a journeyman card player, who imparted the kind of wisdom people write country songs about: "Son, I've made a life out of reading people's faces." It's not clear if this is a real, imagined or spectral encounter but, in any case, it remains a singalonga classic 40 years on.
Queen of Hearts – Juice Newton
Yes, Juice Newton. What is it about country music that seems to lend itself to tales of luck and woe? In this 1981 reworking of a Hank DeVito song (where'd they get these names?), the eponymous Queen of Hearts is more of a femme fatale than a Vegas dealer. But still, it took a gaming reference to No.2 on the US Billboard Hot 100 back in the day.
Viva Las Vegas – Elvis
"Bright light city gonna set my soul, gonna set my soul on fire." Now you're talking. Taken from the 1964 movie of the same name, this was the soaring, slick Elvis of the 1960s and not the later-issue Rhinestone Elvis (worst action figure ever). Elvis could've sung the ingredients off a ketchup bottle back then and it still would've sold. Still, this is a bona fide classic. Here's The King miming to Viva Las Vegas and dancing like your drunk uncle at a wedding who "can still do this, sonny".
There's more of course. So many that could've made our eight. There are plenty of contenders about luck or aces or jacks but, in truth, we're still hoping to uncover a song about Macau, or Rainbow Riches. Or Resorts World Birmingham.