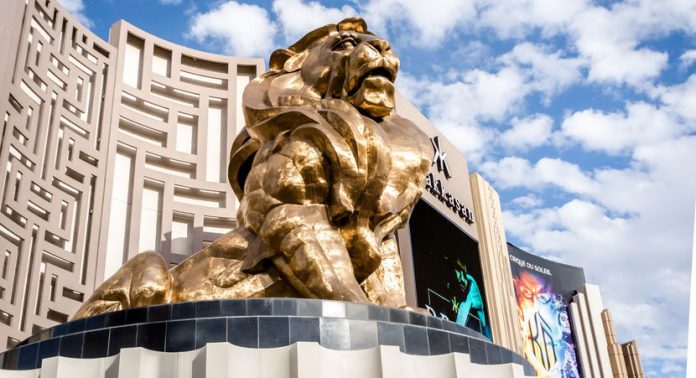 MGM Resorts International has reported casino revenue from its US based properties has hit an eight per cent increase, as profits dropped in the company's financial statement for the second quarter of 2018.
Operating income at MGM's domestic resorts came in at $449m (£334m) for Q2, which "was negatively impacted by disruption related to the repositioning and rebranding at Park MGM".
This is contrasted to $520m (£398.6m) during Q2 2017, "which benefited from $36m (£27.6m) related to Borgata's share of a property tax settlement from Atlantic City, as well as $41m (£31.4m) related to a modification of the 2016 NV Energy exit fee".
Domestic adjusted EBITDA for the period came in at $626m (£480m), a five per cent decrease, excluding its Park MGM property, currently undergoing transformation adjusted EBITDA narrows to a two per cent decline.
An eight per cent boost in casino revenue amongst MGM's US properties is primarily driven by a 14 per cent increase in table games win, aided by the firms assets based on the Las Vegas strip.
Net income for the period came in at $123.78m (£94.98m), contrasted to $209.86m (£160.8m) for the the second quarter of 2018.
Jim Murren, chairman and CEO of MGM Resorts International, commented: "Our Las Vegas Strip resorts benefited in the prior year third quarter from a stronger citywide convention base, two major boxing events and a higher than normal table games hold.
"The difficult comparison in citywide convention attendees, has resulted in a more negative than anticipated hotel mix shift creating short-term competitive rate pressure in the current year third quarter.
"In addition, the transition of Park MGM continues to create short-term headwinds but is on track to complete its transformation by the end of this year."
Net revenue for the quarter came in shy of analyst expectations at $2.86bn (£2.18bn), contrasted to 2017's $2.65bn (£2.03bn), with domestic net revenue showing a slight three per cent boost to $2.2bn (£1.69bn), increasing to four per cent when excluding Park MGM.
Looking at the companies MGM China operations, operating income has remained at $46m (£35.2m) in both the current and the prior year quarters, net revenue increased 32 per cent to $561m (£430m) and adjusted EBITDA rose slightly to $120m (£92m).
Murren added: "Our second quarter came in better than we expected and we made significant progress to capitalise on future growth opportunities in sports betting and Japan.
"Earlier this week, we announced major alliances with GVC, Boyd Gaming and the NBA to cement our leadership position in the developing sports betting market in the US. Further, the recent passage of Japan's Integrated Resort Implementation Act is another historic milestone, and we believe we are well positioned in that market.
"We believe our continued focus on maximising our margins, the near-term completion of our development pipeline, and our ability to accretively sell assets to MGM Growth Properties, will further accelerate our free cash flow generation.  
"We are confident that we will continue to execute on our long-term strategies and deliver value to our shareholders, as evidenced by the nearly $600m (£460m) in share repurchases we made during the quarter."
Looking ahead to its third quarter and full year expectations, MGM commented: "The company expects third quarter net revenues at its Las Vegas Strip resorts to be lower by approximately 8% to 10%, with REVPAR down 5% to 7%. The company also expects Las Vegas Strip adjusted property EBITDA margins to be approximately 28%, or around 29% excluding Park MGM.
"The company expects its full year 2018 net revenues and REVPAR at its Las Vegas Strip resorts to decrease by a low single digit percentage, and an adjusted property EBITDA margin of approximately 29%, or around 30% excluding Park MGM."