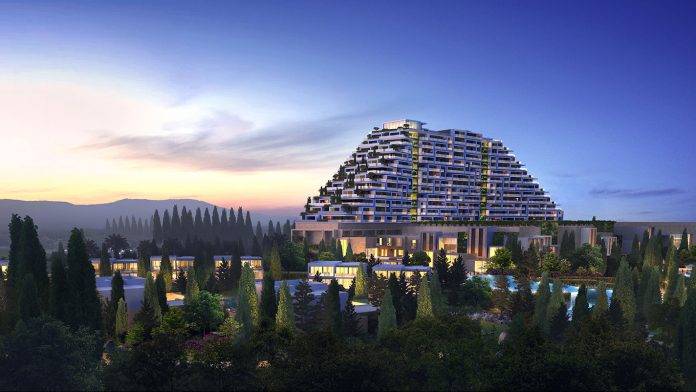 The importance of Melco International Development's €550m City of Dreams Mediterranean construction is of a great importance to the island's tourism, deputy minister for tourism Savvas Perdios has stressed to the Cyprus Mail.
Speaking after meeting Lawrence Ho, chairman and CEO of Melco Group, whilst visiting the company's Cyprus Casino Nicosia, also known as C2 Nicosia, it is said that the pair discussed strategy and tourism, in addition to objectives concerning the integrated casino resort.
Of the development Perdios stressed: "We consider Melco an important contributor to Cyprus' tourism in establishing the island as a popular and must-visit destination.
"Our goals are aligned and we will have a close cooperation in establishing Europe's biggest casino resort, and putting Cyprus on the global tourism map."
Thus far Melco has launched a temporary casino in Limassol, which is to remain operational until the grand opening of the City of Dreams, in addition to satellite casinos in both Nicosia and Larnaca, with two further entity's planned for Paphos and Ayia Napa, as agreed when the company was granted Cyprus' only casino license three years ago.
Following the meeting with Perdios, Ho emphasised the organisations commitment to its operations and ongoing construction on the Mediterranean island: "Cyprus has all the prerequisites to enhance its reputation as a regional and global premium destination, and emerge as a genuine point of reference for luxury tourism and responsible gaming."
Adding: "The ICR will provide extraordinary benefits to Cyprus' economy with a positive impact on the country's gross domestic product, and in tackling unemployment".
Melco International is the biggest shareholder in its subsidiary Melco Resorts and Entertainment, the promoter of several of Macau's leading casino resorts, including City of Dreams, Altira Macau and Studio City, and operator of Philippines casino resort City of Dreams Manila.
The City of Dreams Mediterranean is pencilled in to open its doors in early 2021, and is billed as Europe's biggest integrated casino resort.
It's gaming area is set be installed with 36 tables and 1,200 gaming machines, with the complex also featuring a five-star hotel with luxurious villas and 500 hotel rooms, 11 restaurants and cafeterias, a wellness centre, a sports centre, an extensive pool area with river woods and surf pools, a high-end retail area and an outdoor amphitheatre with extensive green areas.
An additional 300,000 tourists are expected to be attracted as a direct result of the construction, with the financial impact on the Cypriot economy to be felt to the tune of approximately €700m per year, around four per cent of annual GDP.