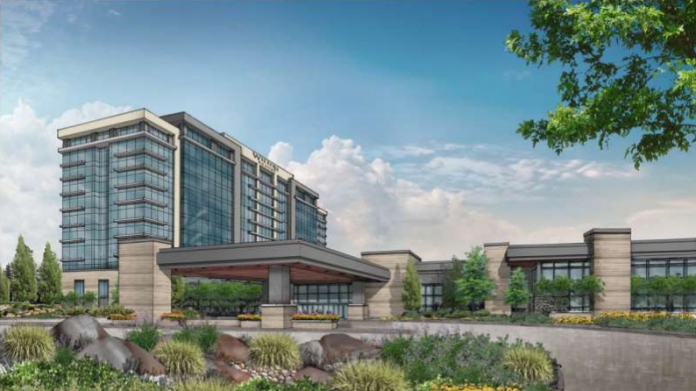 A controversial casino project in Elk Grove, California, has moved a step closer, after demolition work began on the site to remove a deserted mall that currently sits on the proposed site.
The $400m Wilton Rancheria tribe's project, being undertaken in partnership with Boyd Gaming, once complete is to boast 110,000 square feet of gaming floor, a 302-room hotel tower, one of the region's largest convention centres, restaurants and a spa, and will be the closest casino to California's capital city of Sacramento.
"We're starting a new chapter moving closer to a brighter future for our tribal citizens, the people of Elk Grove and the greater Sacramento region," Raymond Hitchcock, Wilton Rancheria chairman, is quoted as saying at the demolition event by the Sacramento Bee.
The project has been met with stern opposition since the Wilton Rancheria tribe bought the property in 2016, a short time after Governor Jerry Brown signed a tribal-state gaming compact between the state and the tribe.
Lauded as an "important step" in Wilton Rancheria's plans to build a resort and casino in Elk Grove, the agreement provided for strong regulatory oversight, labour, licensing, public health and safety, environmental protection, and community investment provisions found within other recent compacts.
Amongst the objections to the proposed development from casino opponents came in the form of local residents and statewide gambling watchdog Stand Up for California, who argued that the Wilton Rancheria's plans violated the Indian Reorganization Act and the National Environmental Policy Act.
However both last year and last month rulings were found in favour of the Wilton Rancheria, with tribal council spokeswoman Tonya Caldwell also quoted as stating: "It's not like we're bringing in a Las Vegas casino, It's going to be more of a resort with a venue, and a lot of other things (people) can enjoy even if they don't want to step into the casino."
Wilton Rancheria is the only federally recognised tribe in Sacramento County, encompassing more than 700 members, with it said that almost 60 per cent of the tribe's members are unemployed, it emphasises a much-needed economic drive for members.
The resort and casino project will create thousands of jobs, with the tribe also agreeing to invest $186m in the first 20 years of the project in the City of Elk Grove and Sacramento County to support police, schools, roads and other services.