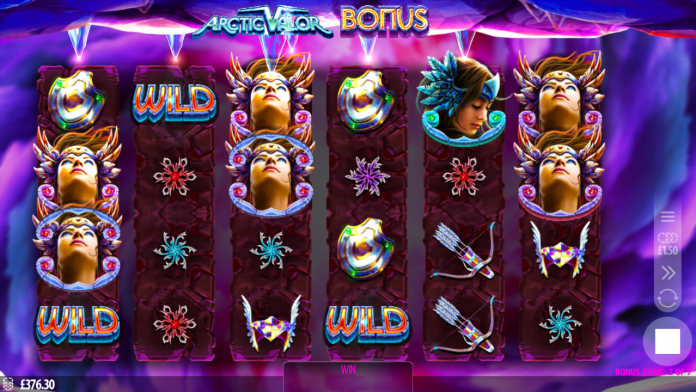 Arctic Valor is the latest slot release from Microgaming, produced for the gaming giant by Crazy Tooth Studio.
RELEASE DATE
Available now.
THE PITCH
"Arctic Valor, a riveting new six-reel, 4,096 ways online slot, will be the first official game developed by Crazy Tooth Studio exclusively for Microgaming."
GAME DETAIL
The new game summons forth fierce Valkyries and icy wins with a mythological edge. Following valiant warriors into battle across a frozen tundra, players braving the blizzards will find themselves drawn into heroic adventures, packed with blockbusting visuals and fantastic features.
Gleaming weapons and colourful snowflakes form a vivid set of symbols, alongside highly-detailed depictions of the heroic horde of Valkyries, who are brought to life with stunning animations when stacked.
Enhancing the frosty feel, the exciting Falling Icicle feature sees icicles grow above the reels throughout the game. Heightening the tension, every spin offers a chance for one or more icicles to randomly fall and crash onto the reel, covering up to three symbols each. Shattering the icicles reveals amazing hidden treasures, with lucky players finding the symbols buried beneath transformed into wilds, or unleashing cash prizes.
BONUS STUFF
Landing three or more scatter symbols pulls players into a compelling Bonus Free Spins round where the icicles become even more dominant, plummeting through the reels over each of the seven free spins.
Rewards are ramped up even further for players landing a full stack of Valkyrie symbols, causing the icicles above to enlarge to a maximum three symbol height.
THEY SAY
Ben Hoffman, president at Crazy Tooth Studio, added: "We are very excited to be working with Microgaming, whose extraordinary position in the market, diverse portfolio of excellent games and extensive list of operators will enable us to greatly diversify our capabilities and deliver our range of innovative slots and games to new audiences. We are thrilled to release Arctic Valor as our first exclusive game for Microgaming."
David Reynolds, games publisher at Microgaming, said: "Arctic Valor provides a visually stunning journey into a land of ice and snow, complete with a fantastically vibrant, Norse-tinged atmosphere. With 4,096 ways to win, players can also look forward to smashing their way through to some truly epic rewards via the game's unique and suspenseful icicle feature."
PLEASE SAY THERE'S A TRAILER
There's a trailer.
CAN WE SEE IT THEN?
Oh, right. Yes.