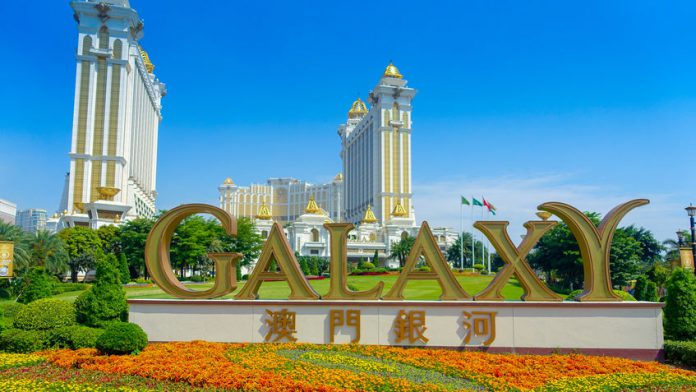 Galaxy Entertainment Group is pressing along with a host of construction and development opportunities, as it strives to wrestle further market share in Macau, in addition to embarking on potential opportunities internationally.
Proceeding with a HK$1.5bn (US$191m) enhancement program for its Galaxy Macau and StarWorld Macau properties, it is striving to be "uniquely positioned for long term growth".
Moving into phases three and four, it is to see the addition of 4,500 hotel rooms, 400,000 square feet of MICE space, a 16,000-seat multi-purpose arena, casinos, retail and food and beverage outlets.
In addition to what it titles 'Cotai – the next chapter,' GEG is also continuing with its Hengqin project, which aims to "develop a low density leisure destination resort that will complement our high energy resorts in Macau".
The casino resort owner and operator, like a large chunk of international organisations, has also set its sights on Japan, following the passage of the integrated resorts bill on July, 20, 2018.
In its latest financial report, GEG stresses "We view Japan as a great long term growth and opportunity, that will complement our Macau operations and our other international expansion ambitions."
Delivering a fourth quarter and full year report, GEG net revenues were boosted two and 14 per cent respectively to HK$14.2bn (US$1.8bn) and HK55.2bn (US$7bn).
Adjusted EBITDA for the year rose 19 per cent to HK$16.9bn (US2.1bn), helped along with a quarterly increase of four per cent year-on-year to $4.3bn (US$559m).
Breaking down GEG's revenues further, Galaxy Macau delivered the lion's share with a 14 per cent FY net revenue increase to HK$39.5bn (US$5bn), StarWorld Macau contributed HK$12.2bn (US$1.5bn), a 12 per cent rise, with Broadway Macau jumping nine per cent to HK$562m (71.6m).
Dr Lui Che Woo, chairman of GEG, addressed GEG's performance: "I am pleased to provide an updated on our financial results for Q4 and full year 2018. At GEG, we continue to drive every segment of the business with a particular focus on the mass business, and continue to allocate resources to their most efficient use.
"Our efforts are reflected in full year adjusted EBITDA of HK$16.9bn. This was despite continuing competitive openings in both Macau and regionally, and a number of geo-political and economic issues that impacted consumer sentiments.
"Our cash and liquid investments were HK$45.8bn and net cash was HK$37bn. During the year, we purchased a minority equity stake of approximately 4.9 per cent of Wynn Resorts.
"We are pleased to announce another special dividend of HK$0.45 per share to be paid on or about 26 April 2019. Additionally, the group paid two special dividends of HK$0.41 and HK$0.50 per share in 2018. The group will continue to focus on both our Macau development plans and international expansion ambitions.
"During 2018, Macau experienced another strong typhoon in September, which resulted for the first time in the closure of casinos for a modest period of time. Due to the careful planning by the Macau government, damage to Macau and properties was minimal and there were only minor personal injuries but more importantly there were no fatalities.
"Finally, I would like to extend my sincere appreciation to all of our committed team members whom without their commitment we would not have been able to achieve these solid financial results. Our team members continue to deliver exceptional customer experiences and 'World Class, Asian Heart' service each and every day."