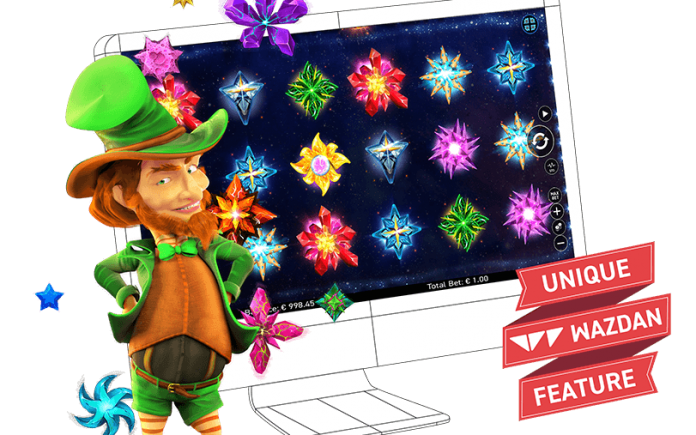 Casino content developer Wazdan has launched Big Screen Mode, a new feature that lets players zoom their games to show bigger reels.
THE PITCH
"Innovative game producer Wazdan has been developing market leading, tech-rich slot games for more than a decade through their team of gaming enthusiasts committed to pushing the limits of technology, gaming and inventive features which allow players to tailor their experience."
DETAIL
Through the Big Screen Mode feature, players of Wazdan games are able to zoom in on their game, showing bigger reels and change the dedicated control panel below the game into universal buttons, which are placed on the right-hand side of the screen, just like players would experience in the mobile version.
With two zoom modes to choose from, players can adjust the width of the reels to their screen. By enabling this unique feature, players can focus on the thrilling action taking place on the reels of their favourite slot game.
THEY SAY
"We are proud of the accomplishments of the Wazdan team and brand. It has been a big year for us, and Big Screen Mode is yet another example of the innovation we inject into our games. Big Screen Mode has already been received with enthusiasm by players, as have the games which offer this feature. With so many new title releases, partnerships and accomplishments already this year, we are beyond excited for every new month, sure to come with many more announcements," – Andrzej Hyla, Wazdan's head of sales
ANYTHING ELSE?
So far Wazdan has seven Unique Wazdan Features on offer. Their world-first patented Volatility Levels give players the option to change the volatility level of each round. The Unique Gamble Feature can be activated after every win, giving players an extra game with a 50/50 chance to double their win in an instant. For players on the move, activating Energy Saving Mode will extend the life of any device's battery by roughly 40 per cent.
Ultra Lite Mode suites players suffering with a slow internet connection to decrease the games load time. Double Screen Mode allows players to see the pay table for each game, where win values of all game symbols can be seen, including special symbols like scatters and wilds.
Finally, for players who like a rapid game, Wazdan's Ultra Fast Mode allows them to adjust the speed of the game, without affecting the game algorithms, performance or RTP.