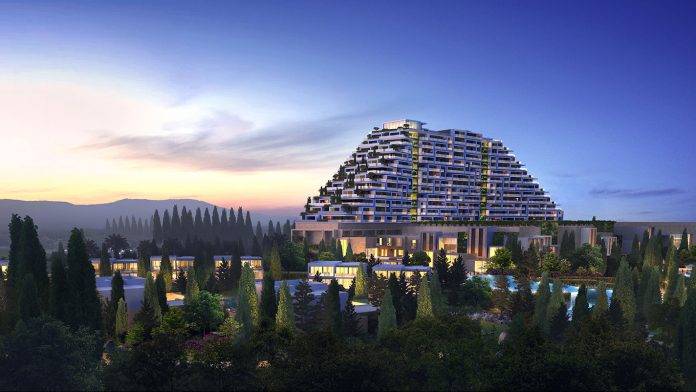 The Cyprus Gaming and Casino Supervision Commission has issued a set of advertising guidelines to be followed by Melco Resorts and Entertainment, the sole casino operator of the island.
Applying to Melco and its affiliates and agents globally, it comes as construction continues on the €550m City of Dreams Mediterranean complex, as the Commission states the intention is not to "prohibit marketing communications" but enable promotions are done in a responsible manner, considering the potential impact on minors, vulnerable persons and problem gamblers.
Under the rules television and radio stations are prohibited from broadcasting any gambling advertisements between the hours of 6am and 11pm, with those relayed during permitted hours not to be done so during, before or after children's programmes or any that would have an interest to the demographic.
Furthermore, advertisements through online publishers, search engines or social media must not be targeted towards anyone under the age 21, with a ban also placed "on websites that would disparage the reputation" of the integrated resort.
Outdoor and indoor displays must also not be present within a 300 metre radius of school or other primarily youth oriented location, including playgrounds, nurseries and youth centres, or appear at venues with a target audience under-21, such as cinemas airing movies aimed at underage persons as well as clinics and hospitals.
The authority also made clear that all advertising and marketing material "must contain a reasonable and appropriate responsible gambling message," communicated prominently and reflective of the target audience.
Sole discretion in determining if there has been a breach is to lie with the Commission, with failure by Melco or its agents, including junket operators, to abide by the restriction considered "ground for conducting disciplinary action against the liable person". 
Melco recently debuted its third Cypriot satellite casino in Ayia Napa, following similar such openings in Nicosia and Larnaca in December last year.
C2 Ayia Napa is permitted due to an exclusive agreement with the country's government, with a temporary property also in operation in Limassol until the City of Dreams Mediterranean opens its doors.