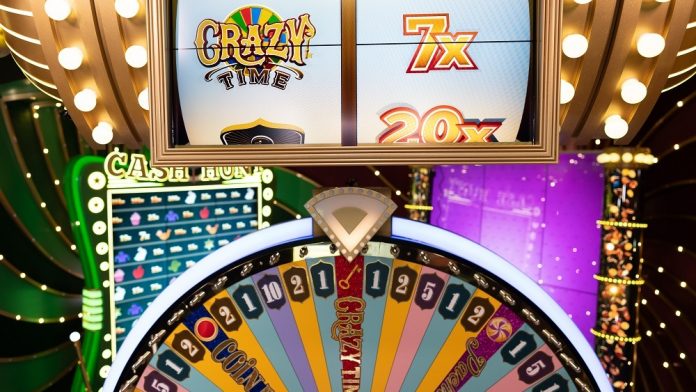 Evolution Gaming chief product officer Todd Haushalter takes CasinoBeats on a tour of 'Crazy Time'. He tells us everything you need to know about the firm's third money wheel game after Dream Catcher and Monopoly Live, including the game's inspiration, unique bonus rounds and multipliers, before explaining why the live game show concept has had so much success in attracting first-time players.
CasinoBeats: What is Crazy Time? And why is it your headline game of 2020?
Todd Haushalter: Simply put, Crazy Time is our newest money wheel game, but it is so much more than that! It's a live game show that packs more fun and more entertainment into a casino-style gaming experience than ever seen before. We have truly taken the concept to new heights by creating a game that immerses players at every turn. 
Just like all money wheel games, the main aim is to have the flapper land on your chosen bet segment, with the exciting addition of a Top Slot, above the wheel, that generates one random multiplier of up to 50x, for one of the bet spots in each round!
Players can place bets on any of the four exciting new bonus games, Cash Hunt, Pachinko, Coin Flip or Crazy Time, plus there's the four other bets you can make: 1, 2, 5, and 10, which all pay simple odds.
Crazy Time leverages some of the most advanced technology. It mixes augmented reality, RNG, slots-style elements and more bonus games than ever before, which made it the natural choice as our headline game at ICE. It is also our most complex, expensive, and labour-intensive game yet, and when you see the game, it shows. 
CB: What concepts inspired the game? 
TH: The initial inspiration for Crazy Time is from an American game show that I grew up watching, called 'The Price is Right'. We wanted to continue our trend that our game shows had started by putting entertainment at the heart of the game, with the addition of various dynamic games-within-games to entertain and immerse players.  
Crazy Time is our third money wheel game and builds upon our two hugely popular, award-winning games Dream Catcher, our first game show launched in 2017 and Monopoly Live in 2019. These were born out of the idea to create a more interactive game experience to attract a wider variety and the next generation of online players, some who hadn't ever played live casino. 
Many of these players were looking for a more exciting alternative to slots or traditional table games and some who were just looking for something completely new. Most new games fit squarely into categories: slots, tables, virtual sports, and as a result most new innovations fit this traditional mould. Dream Catcher represented a shift for us, in creating a game that did not fit the conventional mould, but of course with the associated risk of having no natural player base.
CB: And how do you make sure the simplicity of this game is not lost with more bonus features?
TH: Great question, and this is something we work hard to ensure doesn't happen. For this, we can look to what makes our other money wheel games so popular. With Dream Catcher the magic happens when the flapper lands on one of the two additional multiplier sections, 2x and 7x. When these hit all bets are locked and potential payouts are multiplied. We quickly realised this was something players loved — the thrill of the multipliers and the bonus of potential big wins were an instant success with players.
Monopoly Live again built on this concept with a bonus feature never before seen in live casino — a separate augmented reality bonus round, which takes players on a unique journey into the Monopoly world where they have the opportunity to win huge multiplied amounts. Players now had the ability to bet on two rolls or four rolls, which in turn became the most popular bet spots, with the game smashing all company records for player numbers. 
The simplicity lies in the familiarity of the money wheel, that players know and love, but with the special addition of four bonus games, which really sets the game apart. 
The four unique bonus rounds are:
CASH HUNT:

A digital shooting gallery with 108 random RNG multipliers.

PACHINKO:

A huge light-up Pachinko wall and light-up puck with 16 drop zones and multipliers.

COIN FLIP:

A custom-built coin launcher flips a two-sided coin for multiplier wins on either the red side or the blue side.

CRAZY TIME:

Players enter through the red door into the augmented reality bonus world, with a gigantic virtual wheel with 64 segments and three flappers with crazy potential multiplier wins!
CB: Multipliers up to 25,000x – is this a new high for Evolution?
TH: There are a multitude of different multipliers available in Crazy Time. The maximum multiplier available in Top Slot is 50x, Coin Flip is 5,000x and Pachinko is 10,000x. The Crazy Time bonus game is filled with the possibility for crazy multiplied winnings, for example, if one of the three flappers stop at 'DOUBLE' or 'TRIPLE', all the multipliers on the wheel will be doubled or tripled. 
If you chose this flapper, you'll take part in a re-spin with the chance to win even bigger multipliers of up to 20,000x! But, as mentioned above, our largest multiplier is in cash hunt, where you can target a hidden multiplier of up to 25,000x with winnings capped at €500,000! 
However, this is not the highest multiplier win available on an Evolution Gaming game. In Lightning Baccarat there are 1-5 randomly selected Lightning Cards in every round multiplied by between 2x and 8x. With three matching lucky cards the total winnings could be multiplied by as much as 8x8x8 (512x)!
Even more exciting, a winning bet on a tie with six matching lightning cards can result in a multiplier of 262,144x! In addition, technically players have endless opportunities of winning in Dream Catcher, if the wheel continually hits multipliers, the winning multiplied amount could result in millions of X! 
CB; Which gaming markets does this TV-type entertainment best align with?
TH: The consolidation of our TV-show category last year into live casino space, was to put entertainment at the core of the games, by creating even more immersive gaming experiences and enchanting studio settings to appeal to a wide range of players, not just experienced live casino enthusiasts. 
Games such as Deal or No Deal Live and Monopoly Live offered a style that was not available previously and has seen significant success in attracting first-time players. This is not subject to geographical constraints as our focus is more holistic to attract a variety of players in all regulated markets. 
CB: Will it be part of your US market expansion?
TH: We are always looking to be the first in regulated markets and as soon as a market is regulated, Evolution is there, ready to help operators with offering live casino services to potential players. When a game show has the potential to be popular elsewhere, then we look to roll them out into other regulated markets, just like we have done in the US. 
Our USA studio in New Jersey has gone from strength to strength, doubling in size to meet growing demand from our US licensees and their players. The studio offers an expanded range of live games to players in the state of New Jersey, such as, Roulette, Blackjack, Baccarat, Infinite Blackjack, Auto Roulette and Auto Lightning Roulette.
In addition, we now also offer our immersive game shows, Dream Catcher and Side Bet City, giving US operators the opportunity to offer these games to US players, although we can't disclose any upcoming expansions, be sure to watch this space!
For more information on Crazy Time, click here.