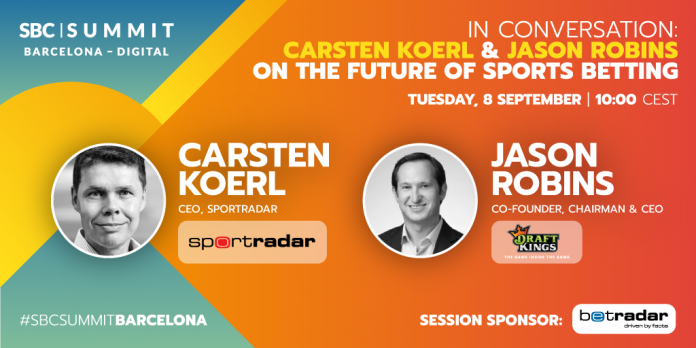 Largest Virtual Conference and Exhibition for the Sports Betting & Gaming Industry to Take Place 8-11 Sept 
SBC Summit Barcelona – Digital is set to open with two of the sports betting & gaming industry's most influential figures, when Carsten Koerl (CEO & founder, Sportradar) and Jason Robins (chairman, CEO & co-founder, DraftKings) take part in an In Conversation session.
The theme of the event's keynote, which is scheduled for Tuesday 8 September at 10am CEST, is The Future of Sports Betting and it will see the pair sharing their thoughts on the changing face of the industry and ideas for its future direction. 
The pair are uniquely well placed to offer insights into the industry. Koerl has built Sportradar into the world's largest sports data, content and integrity services provider, driving the ecosystem for online and mobile sports betting and being a trusted partner to more than 1,000 companies around the globe. 
Robins has emerged as one of the key leaders in the development of the fast-growing US sports betting industry, having guided DraftKings from its roots as a DFS start-up to its current status as a Nasdaq listed digital entertainment and gaming company. 
Rasmus Sojmark, CEO and founder of SBC, said: "What a great way to start our flagship event. I know our audience will be excited to hear from Carsten and Jason, and ready to learn from two of the industry's leaders and biggest success stories. 
"The session will undoubtedly set the tone for what promises to be a hugely valuable four days for all attendees, with more than 200 expert speakers sharing insights on the issues shaping the future of the industry, and plenty of opportunities for people to connect and talk business."
SBC Summit Barcelona – Digital, which takes place on 8 – 11 September 2020, is the largest ever virtual conference and exhibition for the sports betting & gaming industry.
The event platform has four main zones – Sports Betting, Casino & Gaming, Payments & Compliance, and Affiliate & Marketing – each of which features tailored conference content with input from senior industry executives, an interactive expo, a programme of skills workshops and selection of themed networking roundtables.
To join the 10,000 delegates at the event, click here to register for a free pass.