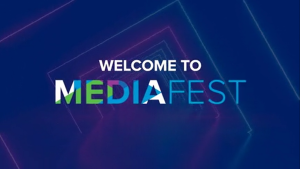 This week, CasinoBeats joined a smattering of global media outlets as Scientific Games' SG Digital subsidiary hosted MediaFest 2020, which you could be forgiven for thinking was a launch show for SG TV.
The goal was a simple one, to lift the lid on its OpenSports, OpenGaming and OpeniLottery platforms, introduce a handful of new collaborations and offer a variety of key insights in the future trajectory of the betting and gaming ecosystems.
Resembling an in-house news channel, a London backdrop provided a more than welcome distraction to a predictably glum late afternoon in Manchester, as the US proved to be a central focus of conversation during the 90 minute presentation.
"Scientific Games already has a leading edge in sports and igaming and now we are poised to deliver the next level of experiences at a time when our world is hungry for innovation," opened Barry Cottle, president and CEO of Scientific Games, in a welcome address.
"This extraordinary period of change is also bringing new players and opening new markets for igaming."
With an inevitable shift to sports coming later in the day, and key partnerships with Betsson Group and a 20-year Flutter Entertainment renewal examined, attention began with online casino.
"…if we do get to a 50 state market … we believe that market could be worth in excess of $20bn dollars"
As conversation edged towards a number of key collaborations to be addressed regarding the online casino space, Dylan Slaney, senior vice president of gaming and digital at Scientific Games, first addressed current innovative steps being taken by the group.
Observing a wider perspective of the broad entertainment vertical, Slaney addressed how the company is looking at what works well for global enterprises, such as Microsoft, Sony and Netflix, and harnessing that to develop better player experiences.
"I've said before that content is king, but the questions we are asking ourselves now is 'is this enough?' And we are seeing in our more mature markets that just the ability to put content out there is OK, but players want something more," it was noted.
"And the way we are doing that is not just looking into the casino industry, but also outside to other verticals and looking at things like Xbox and PlayStation where peer-to-peer, or P2P, experiences is really part of that ecosystem."  
As Jordan Levin, executive vice president and group chief executive of digital for Scientific Games, asserted a long-term of goal of ensuring that digital revenue overtakes that of its land-based counterpart at the company, Chris Grove of Eilers & Krejcik gave an insight the potential of the US market, a region of the utmost important to many.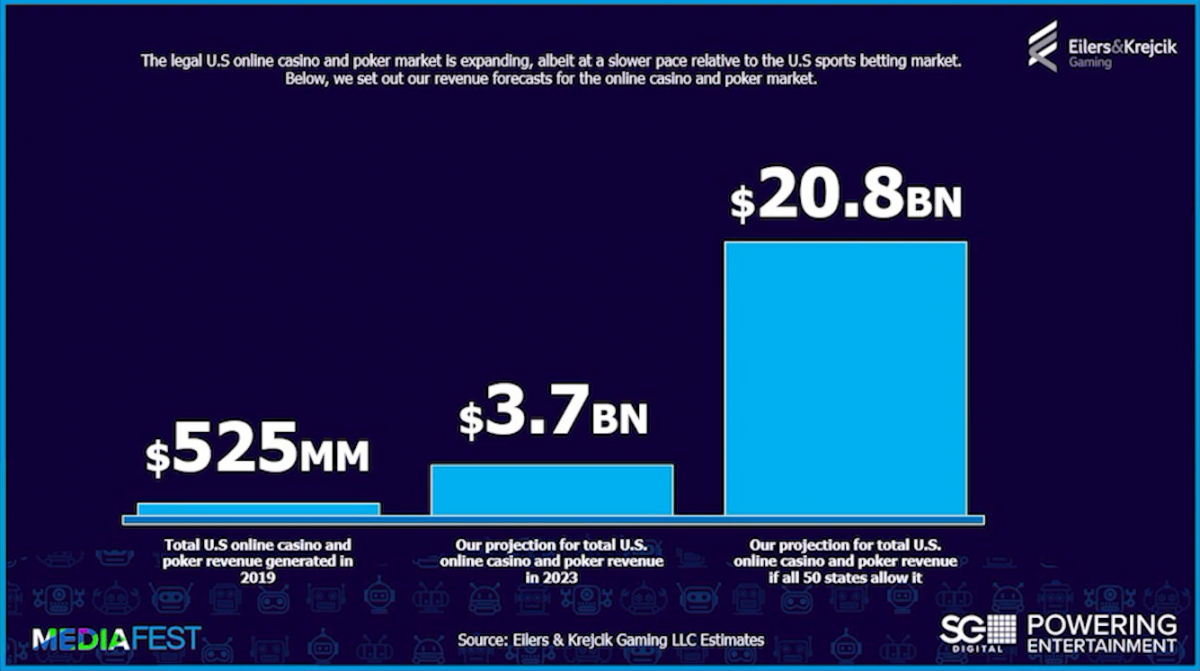 "There is the potential for a really impressive market, once we do get to a 50 state market," Grove said. "We do believe, unfortunately, that it is going to take a bit of time to get there. 
"Rising from half a billion dollars in 2019, we see a market that we estimate will be worth about $3.7bn in 2023, and that's with 11 states authorising online casino. Of course, if we do get to a 50 state market, or when we get to a 50 state market, we believe that market could be worth in excess of $20bn dollars."
That ringing endorsement of the nation's igaming capabilities complemented the three key collaborations detailed by SG in the 'igaming' portion of MediaFest, those being US-focused partnerships with Big Time Gaming, NetEnt, and Hard Rock International.
The former of those sees the studio go through the OpenGaming platform for Canadian and US business, building upon a long-term partnership that has principally targeted European jurisdictions.
Welcoming the news, Slaney praised the group as true pioneers within the industry: "They are one of the best innovators in the digital space at the moment, synonymous with games like Bonanza, which some would argue is probably one of the best digital igaming games ever." 
"I think in the US it has been tantamount to our success, in the fact that we have had a streamlined input into, initially Golden Nugget, who we did an exclusive deal with, and then everyone else has come on board and we now have content in pretty much every major venture in New Jersey. It's very exciting," Nik Robinson, CEO of BTG, added on the agreement.
This followed breaking news of a collaboration inked alongside NetEnt, featured on CasinoBeats earlier today, which will see the firm utilise OpenGaming as its seeks to expand its footprint across regulated markets. 
"So this is the ecosystem that we live in, to Dylan's point, learning from other industries where someone who might be your competitor sometimes, like a NetEnt, can also be a partner when it makes sense," Levin said of the deal. 
"And we're proud like someone of NetEnt's stature and prowess chose us for their primary access point for the US market.
"…we are going to make a mark in this industry"
Furthermore, Andy Whitworth, CCO of NetEnt, was full of praise for the link-up: "I actually think that the SG partnership is another landmark moment in the development of the US market for NetEnt, I think we'll grow together. 
"We have already discussed that as state-by-state opens we will go in together….I feel like it will be mutually beneficial for all our B2B customers and partners."
To conclude, talk swung to an agreement alongside HRI which encapsulates both key segments discussed in great detail throughout the day, after the firm selected Scientific Games' digital and retail solutions to lead its igaming and sports betting expansion.
"We are honoured to have been selected by them to support their sports and igaming aspirations as they move forward in the US. We'll start with Iowa and New Jersey, both with retail and mobile on the sports side as well as support their full igaming platform in New Jersey where it's legal, and then sort of just go from there," Levin commented.
"But this is an extremely exciting, momentous occasion for us to announce this and we take a serious amount of pride in being selected by such a premium brand."
Kresimir Spajic, SVP of online gaming and sports betting at HRI, heaped praise on the cooperation, before elaborating on the opportunity that lies ahead for the firm: "Hard Rock is a global giant, we are present in 76 countries, we have eight casino properties in the United States and three more launching in the next year or two, we have 120 million customers around the world, and around 30 millions customers in our databases. 
"There is definitely a huge opportunity, especially knowing that the brand awareness of the Hard Rock brand is 80 per cent global and over 90 per cent in the US.
"In the next year we should see our expansion in several more US states, there should be further innovations and further enhancements of our product and I definitely believe that we are going to make a mark in this industry and plan to be one of the top contenders both in the casino vertical and the sports vertical.