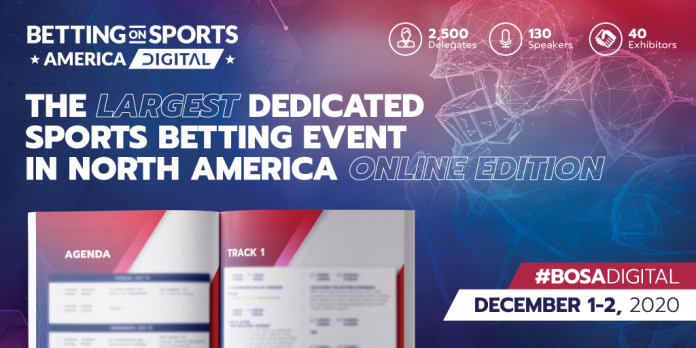 Betting on Sports America – Digital is set to provide a comprehensive analysis of the current state of, and emerging opportunities in, the North American sports betting industry, complete with input from the senior executives at the forefront of shaping the sector's growth path.
The virtual conference and expo on December 1-2, 2020 features a series of interviews with leading CEOs. Joe Asher of William Hill US, Bill Hornbuckle of MGM Resorts, John Levy of theScore, and Derek Stevens of Circa Sports are among those due to share their insights on where sports betting fits into the US gambling ecosystem, how operators can strengthen relationships with leagues, and expansion into more states.
The agenda for the eight-track conference's panel sessions also addresses the major issues affecting the development of the industry in North America, including taxation and regulation, and the opportunities offered by mobile betting. Those topics will be debated in the Vision of the Future – Leaders Panel, which consists of  Kip Levin (CEO, FOXBet), Greg Carlin (CEO, Rush Street Gaming), Adam Greenblatt (CEO, BetMGM), Kristian Nylén (co-founder & CEO, Kambi), Dermot Smurfit (CEO, GAN), and David Wang (CEO & founder, Bet.Works).
There will be plenty more content throughout the event about regulation and the industry's relationship with governments, reflecting the evolving legislative landscape in the US and proposed changes in Canada. Sessions include in-depth examinations of what the imminent change in the White House means for the industry, the potential for legalisation of mobile sportsbooks in New York, the prospects for single-event sports betting in Canada, and what developments in sports betting mean for tribal gaming interests and state lotteries.
The Betting on Sports America – Digital audience can also expect to benefit from expert insights into the potential offered by both new technology designed to deliver improved service for operators across multiple states, and new markets, such as esports and in-play.
One sector that many believe has the potential to be hugely profitable for operators is college sports, but concerns remain about the integrity issues that may arise from basing multimillion-dollar gambling markets on amateur games. The College Sports – Adapting to the New World of Betting session will see Eric Foote (chief commercial officer, PointsBet USA), Naima Stevenson (deputy general counsel, NCAA), Lance Gerlach (senior associate athletic director, University of Colorado Boulder), and Tassos Kaburakis (associate director, St Louis University) examine how to make regulated wagering compatible with these hugely popular events.
Whether operators stick rigidly to major sports leagues or also offer markets on NCAA games, they need to develop cost-effective strategies to acquire players in what have developed into highly-competitive markets in a number of states. The conference element of Betting on Sports America – Digital will offer plenty of ideas for how to reach and retain players, with expert panels evaluating the effectiveness of affiliate marketing, the role of fantasy sports as a gateway to wagering, and the importance of branding.
The Activation – Making the Most of Partnerships session will look at how operators can use sponsorships of leagues, teams, and media coverage to attract new customer sign-ups. The panellists include Kyle Wachtel (head of partnerships, BetMGM), Catherine Carlson (SVP, revenue & strategy, Philadelphia Eagles), Geoff Reiss (general manager, Yahoo Sports), Erica Kosemund (senior corporate director of marketing, Choctaw Nation of Oklahoma), and Cillian Barry (managing director, SportCaller).
A major talking point this year has been M&A activity, as Caesars Entertainment's acquisition of Eldorado Resorts, the complex DraftKings – SBTech deal, and Flutter Entertainment's merger with Stars Group have taken the betting and gaming industry on to the front pages of the financial press.
The agenda recognises the importance of investors to the industry's growth plans, with sessions on what financial backers are looking for in operators and suppliers, the cost of capital in the sports betting industry, and how start-ups can attract investment. Additionally, the Media Grab – New Brands in Gambling will see Benjie Levy (COO, theScore), Jay Rood (COO, Bet.Works) and Scott Shapiro (chief strategy officer – Sports, Sinclair Broadcasting Group) assess the potential for further broadcasters and digital media companies to follow the lead of Fox and theScore by investing in their own-brand betting operators.
As well as the conference, Betting on Sports America – Digital will feature an interactive product display area showcasing the next generation of products and solutions from international suppliers, together with a program of themed networking roundtables that will provide opportunities to make valuable new connections.
Betting on Sports America – Digital is free to attend. To join the US and international delegates set to participate in the event, click here to register for free.