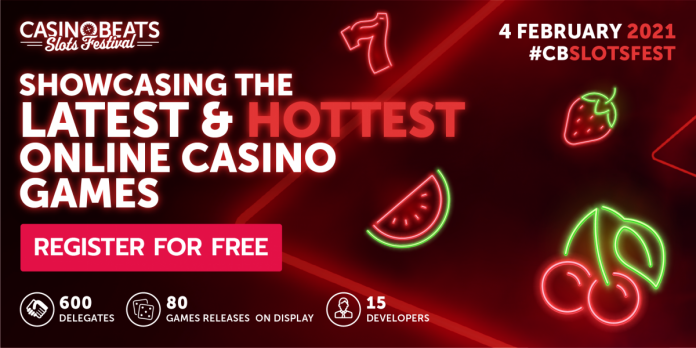 The first CasinoBeats Slots Festival of 2021 is set to bring together a select audience of international operators and affiliates to play the latest titles from leading games developers and emerging studios.
The day-long festival on 4 February will see the hottest new online slots showcased in a dedicated interactive environment that allows the industry's key decision makers and influencers to put them through their paces in free-play mode.
Slots Festival's inaugural edition in November 2020 was a huge success, as the casino teams of 120 operators from around the world took advantage of the opportunity to try out 100 slots, including a host of previously unreleased titles, in a single setting accessible from the convenient location of their own desks. 
This rare opportunity to take time out of their busy work schedule to gain first-hand experience of so many new slots and compare their gameplay, graphics, sound, and UX proved to be a winning formula for the teams responsible for product selection.   
The February 2021 edition of Slots Festival will again provide a valuable research tool for operators, allowing them to enjoy early access to H2's hit titles and discover some hidden gems from newer studios. 
In addition to operators, the audience will include online casino affiliates, content aggregators, streamers, and industry media, providing a simple and cost-effective way for games developers to present their latest slots to the entire igaming ecosystem.
Stewart Darkin, managing director of CasinoBeats, said: "The feedback we had from last year's Slots Festival attendees told us two things – it had real business value for delegates and was also great fun.
"There is no better way to assess new slots than by actually playing them and testing out all their features. What Slots Festival allows operators' casino teams to do is enjoy a day of play and, in doing so, undertake some great product research that will help them to identify the next generation of hit titles."
In addition to the chance to try new slots in free-play mode, attendees can take part in tournaments organised by the slots developers, tune into keynotes from prominent figures in the industry, and watch streamers demo some of the new titles to see how players react to them.
Members of operators' casino teams, slots and casino affiliates, content aggregators, and igaming industry media can register for CasinoBeats Slots Festival on 4 February 2021 by clicking here.
For details about showcasing games at the four Slots Festivals scheduled for 2021, please contact [email protected].