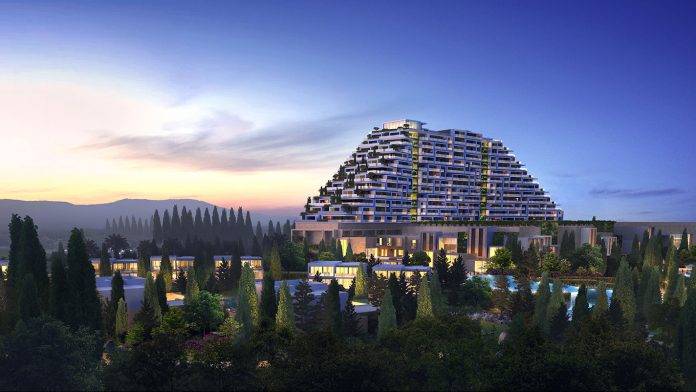 Melco Resorts and Entertainment has reaffirmed commitment to its global development program, as the ongoing coronavirus pandemic causes a continued financial downturn for the group.
The casino resort operator says travel restrictions across Macau, Hong Kong, and certain provinces in China, as well as closures in the Philippines and Europe, where its Cypriot operations were shuttered for parts of the year, were largely to blame for the negative showing throughout the year.
Despite this, Melco has asserted that construction on the expansion of Studio City is progressing and upgrading works at City of Dreams are ongoing, with construction of Cyprus' City of Dreams Mediterranean needing additional time for completion. 
This saw the government of Cyprus last month extend the opening date requirement of the multi-million pound development to September 30, 2022.
Furthermore, Lawrence Ho, chairman and CEO of Melco, also issued an update on the firm's Japanese aspirations: "Turning to Japan, I want to highlight our continued commitment to bring to the country a world-leading IR. 
"We believe our focus on the Asian premium segment, a portfolio of high-quality assets, devotion to craftsmanship, dedication to world-class entertainment offerings, market-leading social safeguard systems, established track record of successful partnerships, culture of exceptional guest service, and a continuing commitment to employee development puts Melco in a strong position to help Japan realise the vision of developing an exceptional IR with a uniquely Japanese touch. 
"Due to COVID, the process in Japan has been delayed and remains complex but has renewed momentum as jurisdictions are again initiating RFP processes. We will continue to be patient as we evaluate the landscape to ensure that Melco pursues the right opportunity that takes advantage of Melco's core strengths to drive strong value creation."
For the fourth quarter of 2020, operating revenue plummeted 64 per cent to $528,002 (2019: $1.45bn), which is primarily attributable to softer performance in all gaming segments and non-gaming operations as a result of the COVID-19 pandemic, which resulted in a significant decline in inbound tourism throughout the year.
Operating loss for the quarter ended up at $144.8m compared to income of $173.4m a year earlier, with adjusted EBITDA finishing up at $53.4m (2019: $409.8m).
For the full year, group wide operating revenue dropped 69.8 per cent to $1.73bn (2019: 5.74bn) for similar reasons to above, net loss stands at $1.26bn compared to income of 373.2m in 2019, an adjusted EBITDA ended the year at a loss of $104.2m (2019: $1.68bn).
"COVID-19 and the subsequent travel restrictions continue to have a significant negative impact on our operating and financial performance," Ho concluded. 
"Despite these challenges, our integrated resorts experienced a moderate recovery in business levels during the fourth quarter.
"While we are encouraged by the recent positive developments, ensuring the safety and well-being of our colleagues, customers and communities in which we operate remains our highest priority. 
"Melco also fully supports the Macau SAR government's scheme for tourists from Mainland China with the aim to expand the number of visitors, boost the economy, and protect local jobs. 
"In support of the scheme, Melco strives to continue prioritising epidemic prevention measures by working hand-in-hand with local small and medium enterprise partners, while contributing collaboratively to the city's sustainable development and economic recovery."