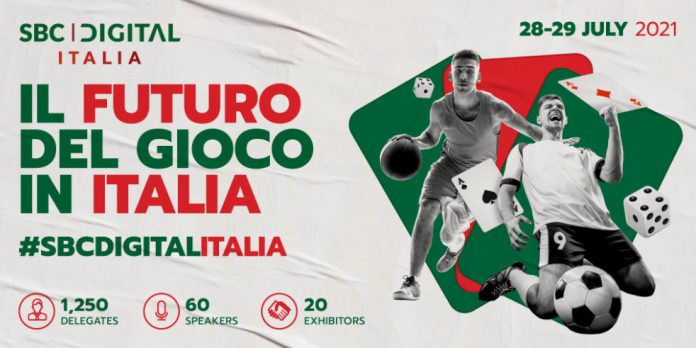 SBC and GiocoNews are set to work together to stage SBC Digital Italia, a new high-level conference and exhibition for the Italian betting and gaming industry, this summer.
The online event on July 28-29 will bring together 60 speakers, 20 exhibitors and 1,250 delegates from all segments of the Italian industry to exchange information and ideas, make new connections and talk business.
It follows February's successful staging of the first SBC Digital Italy conference and exhibition, which saw 800 delegates from Italy's online gambling industry gather to hear from speakers including Fabio Schiavolin (CEO, Snaitech), Carlo Di Maio (MD betting division, Gamenet Group), Alexander Martin (CEO, SKS365), Pietro Lechiara (MD Italy, Betsson Group), and Marco Castaldo (CEO, Microgame & director for betting & online gaming, Astro).
The feedback from delegates, sponsors and speakers was overwhelmingly positive, in part because the event delivered valuable insights about the online market, which is often overlooked by industry conferences in Italy.
However, rather than simply replicate the popular formula from its first dedicated Italian event, SBC has chosen to work in partnership with GiocoNews in order to produce a new and more comprehensive event in July.
The conference content at SBC Digital Italia will feature a mix of sessions in Italian and English, in order to cater for both people working in the domestic industry and an international audience interested in the opportunities in the country.
With the GiocoNews team providing expert input on the full spectrum of the Italian gambling industry, the agenda will include high-level panels covering the evolving regulatory picture and fallout from the change in government, the route to recovery for the pandemic-ravaged land-based sector, and the opportunities within the fast-growing online sports betting, casino and poker verticals.
In addition to the conference content, the event will include an interactive product display area showcasing the latest innovations tailored to the Italian market and a programme of networking roundtables to help delegates connect with fellow attendees.
Rasmus Sojmark, founder & CEO of SBC, said: "For too long, Italy has lacked a comprehensive high-level event commensurate with its status as Europe's second largest regulated gambling market. So, we're excited to launch SBC Digital Italia and to work with a great local partner in the form of GiocoNews.
"We're looking forward to staging two days of valuable industry discussions that will encompass both the huge land-based and increasingly important online sectors of this complex market."
Alessio Crisantemi, direttore responsabile of GiocoNews, added: "The Italian gaming industry is in a moment of big change. Beyond the pandemic, online and land-based gaming licences are now close to expiration and the government has to rewrite the rules of the entire market.
"For this reason, in the coming months we should talk about the many issues and challenges for operators, who are looking for real answers. SBC Digital Italia in July will offer an ideal opportunity to address these matters in depth, during discussions that involve not only industry stakeholders, but also representatives from politics and institutions."
To find out more about the event, including how to register for free, please visit the SBC Digital Italia website.
For details of sponsorship and exhibition opportunities, please contact [email protected].