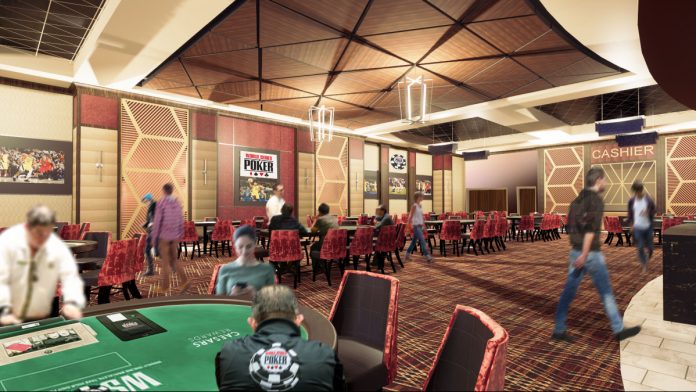 Indiana Grand Racing & Casino is to gain a $32.5m investment for expansion and enhancements as Caesars Entertainment unveils plans to create new jobs and millions in additional gaming tax revenue.
Preliminary plans for the Shelbyville located facility include the addition of a 5,000 square foot World Series of Poker room; 20-seat video poker bar with 65" LCD overhead screens; new table games, slots and gaming chairs; revamped design elements throughout the gaming floor; and the creation of more than 100 new casino jobs and millions to local and state gaming tax revenues.
"This investment at Indiana Grand is a testament to our continued commitment to Indiana," said Anthony Carano, president and chief operating officer of Caesars Entertainment. 
"We are dedicated to enhancing and upgrading our operations at all of our locations, and we're excited to start on several new phases of renovation and expansion in Shelbyville."
The venue intends to add approximately 25,000 square feet to the north end of the casino, making room for 100 brand-new slot machines and 25 more table games. 
Additionally, the expanded gaming floor will feature the WSOP poker room, which will include 20 tables and offer ways to qualify for WSOP land-based tournaments, including the 'Main Event' in Las Vegas.   
Construction is slated to begin work on April 1, 2021, with renovations set to be completed by the end of the year. Additional details on new hospitality, entertainment, and culinary offerings are anticipated in the coming months, subject to city and Indiana Gaming Commission approval. 
"Since the implementation of table games in early 2020, we have looked forward to expanding our gaming operations," said Mike Rich, senior vice president and general manager of Indiana Grand.
"This growth will allow us to accommodate more guests and add more talented team members to the Indiana Grand family, and with the addition of a state-of-the-art poker room, we will expand our casino offerings to include some of the most notable programs in the United States, including World Series of Poker."