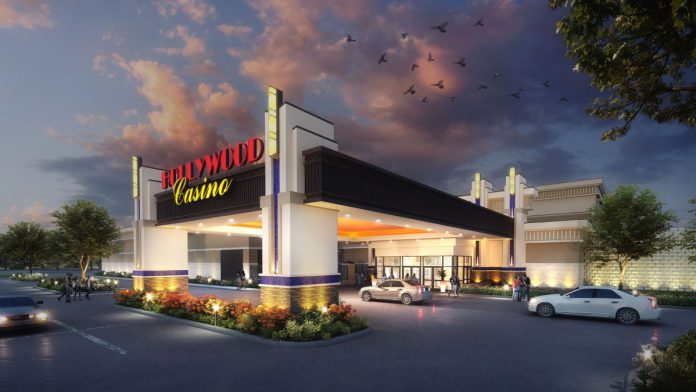 Penn National Gaming has reaffirmed a focus on garnering top-three gaming revenue market share for its Barstool Sportsbook, as well as continuing to drive profitable online gaming revenue.
The comments come as the operator publishes its latest financial update, with PNG saying that it "kicked off the year with record results in Q1 2021 from our land-based business".
Revenue for the reporting period increased 14.2 per cent from $1.11bn to $1.27bn year-on-year, but dropped six per cent when contrasted to the $1.28m gained during the same timeframe two years ago.
Net income reached $90.9m, up from 2019's $41m and a loss of $608.6m one year ago, with adjusted EBITDA of $336.6m representing increases of 117.4 per cent and 9.7 per cent from $154.8m and $306.7m from 2020 and 2019, respectively. 
The results were driven by contributions from the online Barstool Sportsbook and igaming platforms, as well as land-based gaming properties, despite COVID-19 related closures in Pennsylvania and Illinois for parts of January, and Zia Park in New Mexico not reopening until early March. 
Furthermore, when adjusting for the days the group's casinos were mandated to close and excluding the contribution from Penn Interactive, revenues declined nine per cent and adjusted EBITDAR increased 12 per cent.
Jay Snowden, president and CEO of PNG, explained: "Despite COVID-related restrictions and closures in January and harsh winter weather in the south segment in February, visitation and length of play continue to improve across all age segments of our player database. 
"Moreover, we saw volumes in the month of March that we have not seen since 2019. Recall, when we reopened our properties in the summer of 2020, we saw very high spend-per-visit, but visitation was well below pre-COVID levels. 
"Today, we're still seeing spend-per-visit that is much higher than it was pre-COVID, and visitation is at or near 2019 levels in most of our markets, which is a great combination.
"Importantly, the younger demographic continues to choose gaming as a viable entertainment option while the 55+ age group has been returning to our casinos as vaccines continue to roll out. 
"Unrated play continues to show strength that mirrors what we have seen from our rated guests. This top-line demand coupled with the structural changes we put in place at the start of the pandemic has resulted in remarkable and sustainable margin improvement."
Breaking down the company's revenue across its four key geographical segments, and the northeast took the lion's share of $570.9m, representing increases from $520.7m and $550.6m in 2020 and 2019.
The south took $295.9m, which is up significantly from $223.3 YoY and fractionally from the $292m recorded two years ago, with the midwest rising from 2020's $228.1m to $234.7m, but falling 13.4 per cent from $271.2m in 2019. 
The company's west division came in at $96.6m, down from $126.6m and $158.6m over the past two years' comparable periods, with other, which incorporates stand-alone racing operations and Penn Interactive, finishing up at $87.9m (2020: $20.3m & 2019: $10.2m).
Snowdown continued by looking at the group's goal of serving as a disruptor to the gaming industry in 2021 and beyond: "With a very strong start to 2021, our goal is to continue to disrupt the gaming industry and position Penn National for ongoing growth through unconventional and fresh approaches. 
"The broader acceptance of sports betting and the greater consumer adoption of technology, which was accelerated by the ongoing pandemic, have been some of the key drivers behind our strategic initiatives. 
"Looking ahead, I am confident that Penn National will look significantly different in the next three to five years than it does today as we remain committed to breaking from the conventional wisdom in terms of how we operate and engage our customers. 
"However, what will not change is our long-term focus on profitable growth and our dedication to creating shareholder value by maintaining a long-term view. I remain excited for the future at Penn National Gaming."
Adding on the roadmap that lies ahead: "We will be launching the 3Cs (cashless, cardless, and contactless) experience throughout the remainder of 2021 at our four casinos in Pennsylvania with the first launch near the end of Q2 2021, pending regulatory approval. Included in the list of our four Pennsylvania casinos is Hollywood Casino York, set to open in August and Hollywood Casino Morgantown, which we expect to open later this year. 
"In Maryland, we remain on track to close the Hollywood Casino Perryville acquisition in early Q3 2021, which will provide us market access to our 20th state. Each of these properties will feature a Barstool Sportsbook, which combined with our mychoice player affinity program, highlights our expanding omni-channel presence."