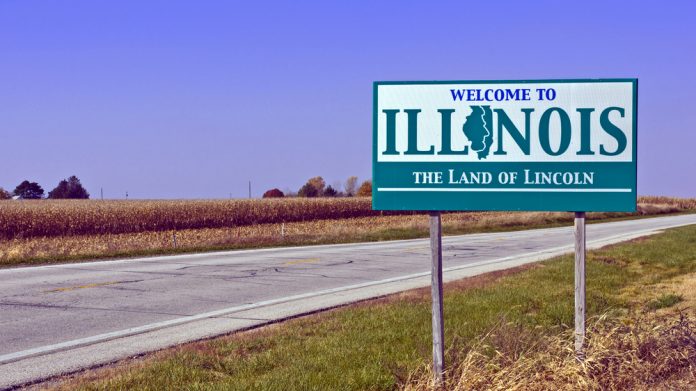 Warnings have once again been issued regarding in-person registration requirements in Illinois, as the region's sportsbooks set records for betting and revenue in March.
Betting on a retail and online basis surged to $633.6m in March, which is up 24.3 per cent from $509.8m in February and topped the previous record $581.6m from January. Bettors placed $20.4m per day during the 31 days. Online wagering accounted for 96.1 per cent, or $609m, of all bets in March.
March's high volume produced a record $49.9m in operator revenue, which surpassed the $49.4m in January. The month's win created $44.3m in taxable revenue, which yielded $6.6m in state taxes and $493,543 in local taxes.
"March Madness helped deliver a huge month for Illinois, but March is essentially a 'last hurrah' for the state's rapid growth," said Joe Boozell, analyst for PlayIllinois.com. 
"Illinois will still be one of the largest US markets because of the population of the state, but it will be difficult to maintain its current status as the US' No. 3, much less catch Nevada. No matter how appealing a market, there isn't any easy way to overcome the inconvenience of in-person registration."
Illinois surpassed Pennsylvania ($560.3m) in monthly handle for the second straight month and gained ground on New Jersey ($859.6m) and Nevada ($641m). In doing so, the state surpassed $3bn ($3.6bn) in lifetime handle.
"The growth over the last year has been staggering, making Illinois the quickest to $3bn in US history," said Jessica Welman, analyst for PlayIllinois. 
"The question now becomes what will happen when the brakes are hit on that growth? Does it alarm lawmakers enough to make a change? Or will Illinois be satisfied with where the sports betting market has been frozen in place?"
DraftKings/Casino Queen represented 32.2 per cent of the state's entire handle in March, generating $207.6m in online and retail wagers. $203.9m of March's bets came online.
FanDuel/Fairmont attracted $195.2m in bets- $194.9m of which came online. BetRivers/Rivers Casino continued to lose pace with the market leaders, generating $95.7m in online betting and $106.9m overall.
"One of the biggest issues with the return of in-person registration is it puts newly launched operators at a permanent disadvantage," Welman added. "In one way, Barstool was fortunate to launch when it did, helping them build a foundation. But growth will be difficult for all operators, and especially those that are farther away from the largest population centres."